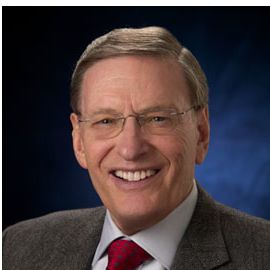 Allan Huber "Bud" Selig is an American baseball executive who currently serves as the Commissioner Emeritus of Baseball. Previously, he served as the ninth Commissioner of Baseball. He initially served as the acting commissioner beginning in 1992 before being named the official commissioner in 1998. Selig oversaw baseball through the 1994 strike, the introduction of the wild card, interleague play, and the merging of the National and American Leagues under the Office of the Commissioner. He was instrumental in organizing the World Baseball Classic in 2006. Selig also introduced revenue sharing. He is credited for the financial turnaround of baseball during his tenure with a 400 percent increase in the revenue of MLB and annual record breaking attendance. Selig enjoys a high level of support from baseball owners. Jerome Holtzman, MLB's official historian from 1999 until his death in 2008, believed Selig to be the best commissioner in baseball history.
During Selig's term of service, the use of steroids and other performance enhancing drugs became a public issue. The Mitchell Report, commissioned by Selig, concluded that the MLB commissioners, club officials, the Players Association, and the players all share "to some extent in the responsibility for the steroid era." Following the release of the Mitchell Report, Congressman Cliff Stearns called publicly for Selig to step down as commissioner, citing his "glacial response" to the "growing stain on baseball." Selig has pledged on numerous occasions to rid baseball of performance enhancing drugs, and has overseen and instituted many rule changes and penalties to that end.
Selig was previously the team owner and team president of the Milwaukee Brewers. As a Milwaukee native, he is credited for keeping baseball in Milwaukee. In 1970, he purchased the Seattle Pilots in bankruptcy court and renamed them the Milwaukee Brewers after the minor league team of the same name he had watched in his youth, which existed until the arrival of the Braves in Milwaukee in 1953. The Brewers went to the 1982 World Series and won seven organization of the year awards during his tenure. Selig remains a resident of Milwaukee.
Videos
---
Speech Topics
---
A Conversation with Bud Selig
Keeping Your Competitive Edge
Winning on the Field and in the Boardroom