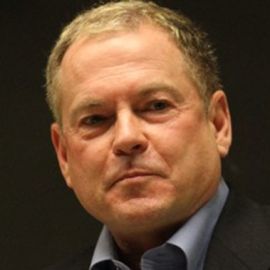 Lieutenant Colonel Robert "Buzz" Patterson is a retired United States Air Force pilot, former Senior Military Aide to President Bill Clinton, conservative speaker and bestselling author. He wrote two New York Times best sellers, Dereliction of Duty: The Eyewitness Account of How Bill Clinton Compromised America's National Security and Reckless Disregard: How Liberal Democrats Undercut Our Military, Endanger Our Soldiers, and Jeopardize Our Security. His most recent book is Conduct Unbecoming: How Barack Obama is Destroying the Military and Endangering Our Security.
Patterson served 20 years as a pilot on active duty in the United States Air Force and saw tours of duty world-wide, including combat operations in Grenada, Somalia, Rwanda, Haiti, and Bosnia.
From 1996 to 1998, Colonel Patterson was the Senior Military Aide to President Bill Clinton. During that time he was responsible for the President's Emergency Satchel, otherwise known as the "Nuclear Football," the black bag with the nation's nuclear capability that accompanies the president at all times. In addition, Colonel Patterson was operational commander for all military units assigned to the White House, which included Air Force One, Marine One, Camp David, White House Transportation Agency and White House Mess.
Among his many military commendations, Patterson received the Defense Superior Service Medal for accomplishments while at the White House and was awarded the Air Force Air Medal for flying fifteen combat support missions into then-besieged Sarajevo, Bosnia-Herzegovina in 1994. He retired in 2001 to pursue a career as a commercial airline pilot, writer and conservative speaker.
He is a frequent guest on talk shows across the country, including television appearances on Hannity and Colmes, The O'Reilly Factor, CBS' Morning Show, Fox and Friends, Hardball with Chris Matthews, The Dennis Miller Show, C-SPAN's Book Notes, Joe Scarborough, Heartland with John Kasich, and MSNBC News. He's also been heard on radio shows, including Rush Limbaugh, Sean Hannity, Laura Ingraham, Michael Savage, G. Gordon Liddy to Hugh Hewitt.
Patterson was born in Chapel Hill, North Carolina. He is a Distinguished Graduate from the Air Command and Staff College; he has his Bachelor's Degree in Political Science from Virginia Tech University and a Master's in Business Administration from Webster University in St. Louis, Missouri. He and his family currently reside in California.
News
---
Brandon Straka's #WalkAway Movement To March On Washington, D.C.
Straka has now organized the first #WalkAway march on Washington, D.C., which will take place October 26-28. Speakers for the event include Dinesh D'Souza, Stacey Dash, Joy Villa, Mason Weaver, Buzz Patterson, and others. Dave Rubin, Herman Cain, Tomi Lahren, and Antonio Sabato Jr. cannot attend in person, but have provided videotaped remarks.
Related Speakers View all
---
Katie Pavlich

Conservative Commentator, Author & Journalist

Dan Flynn

Author, Columnist, & Senior Editor of "The American ...

Guy Benson

Political Editor of Townhall.com & Fox News Contributor

Ann Coulter

Bestselling Author & Political Commentator

Jason Mattera

Emmy-Nominated Journalist, Conservative Activist & A...

Doug Giles

Conservative Columnist, Political Commentator & Auth...

Frank Donatelli

Conservative Activist, Chairman of the Reagan Ranch...

Ben Shapiro

Conservative Political Commentator & Radio Talk Show...

Tammy Bruce

Political Commentator, Talk Radio Show Host & Author

Ben Stein

Political Economist, Commentator, Author & Actor

John Kasich

Former Governor of Ohio

Candace Owens

Political Activist, Conservative Commentator & Found...

Lawrence B. Jones III

Conservative Commentator and Editor-in-Chief, Campus...

Meghan McCain

Co-Host of "The View," Political Columnist, Author &...

Pete Seat

Former White House Spokesman, Author & Political Com...

Oliver North

Combat-Decorated Marine, Best-Selling Author & Forme...

Laura Ingraham

Political Commentator, Television Host & Journalist

David R. Dow

David R. Dow has defended over 100 death row inmates...

Earl Johnson

Author of "Stairwell to Heaven"

Steven Crowder

Conservative Commentator, Comedian & Former Fox News...
More like Buzz