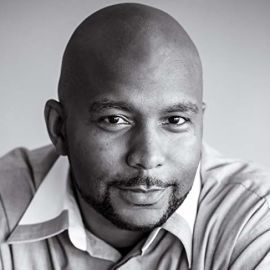 C. Nathaniel Brown
Multi-bestselling author, publisher, filmmaker, and motivational and inspirational speaker.
When he's not eating pizza and Crunchberries, C. Nathaniel Brown is hard at work as an award-winning writer, international publisher, speaker, author coach, and filmmaker. A multi-talented and multi-faceted entrepreneur, he has made his mark in such fields as media, entertainment, publishing, photography, and inspirational and motivational speaking.
Chuck, as he is affectionately known, founded and heads Expected End Entertainment LLC, an umbrella company that specializes in providing entertainment, education, and empowerment thru television, radio, internet, and film programming. The company also houses writing and editing services, book publishing, and author branding in its EX3 Books division.
Because of his success in various areas, C. Nathaniel Brown has become a sought-after keynote speaker and talk show guest tackling such topics as The Success Mindset, Overcoming Obstacle to Success, Mentoring, Relationship Building, and Turning Your Passion into Your Profession. They all fall under his speaking theme: "Dream Bigger, LIVE Your Dreams, and IMPACT Your World."
It is his constant message of believing in your own greatness to impact others that has driven him to pursue the successes he has achieved. In each of his entrepreneurial endeavors, C. Nathaniel Brown reiterates this message to others and encourages them to aggressively pursue their passion, a lesson he's learned through difficulty times.
Born and raised in a low-income Baltimore home to a single mother of two boys, he never stopped dreaming of success. At an early age, he told his mother that one day he'd become a successful writer and help other people achieve their dreams. That journey wasn't an easy one. He was met with opposition that included financial problems, being told by his freshman English professor that he'd never become a writer, depression, jail, and many of life's other unfortunate experiences.
But C. Nathaniel Brown never let any obstacle stand in his way. And that's the message he shares every opportunity he gets.
After graduating Dunbar High School in Baltimore, he went on to pursue his undergraduate studies at Denison University in Granville, Ohio, where he earned a degree in Black Studies with a writing emphasis. He then became a journalism fellow at Ohio University's E.W. Scripps School of Journalism, where he honed his craft as a reporter. He went on to spend the next 20 as a journalist working as a writer, editor, publisher, and photographer with publications in Ohio, North Carolina, Pennsylvania, and various online publications across the country. He also founded and published Glad Tidings, a Christian lifestyle magazine.
As a writer, C. Nathaniel Brown's works have appeared in such publications as USA Today, The New York Times, and The Atlanta Journal Constitution. He has published eight books, including his most recent, Shift Happens Then You Live along with The 30-Day Prayer Companion. The bestselling author enjoys empowerment writing to help people live their dreams. As a filmmaker, he has written nearly 30 screenplays ranging from 4-minute shorts to feature-length films.
He can be heard every Wednesday night from 10-11 p.m. EST as host of The C. Nathaniel Brown Show, an online radio talk show that forwards Expected End Entertainment's mission of entertaining, educating, and empowering.
Nathaniel Brown resides in Atlanta with Tarai Alexander, his wife of 20 years.
Speech Topics
---
I AM! I WILL!
Interactive speech or workshop that gets participants active in making changes in their lives by developing and practicing affirmations and proclamations.
LIVE Your Dream
This speech breaks down the differences between existing and living and provides participants with life applicable steps to walk in their purpose and destiny.
Building Godly Men
This spiritually-based speech addresses the importance of men recognizing and understanding their God-given talents, abilities and roles in the home and in society.
Turning your Passion into Your Profession
This speech provides action steps to discover your purpose and passion and then how to leverage that into a profession. Using firsthand accounts and experiences, C. Nathaniel Brown paints a vivid picture for participants.
Overcoming Obstacles to Success
In order to overcome obstacles, you first have to identify them. This speech identifies some of the most common obstacles such as rejection, fear and procrastination and identifies strategies to overcome them.
It's About T.I.M.E.
TIME is an acronym for Transformation, Inspiration, Motivation and Empowerment. This is a power packed message designed to jolt participants into action in their own lives.
Process of Purpose and Success
This speech identifies what purpose is, what success is and what process is. Using the story and life of Thomas Edison, it gives a foundation for participants to understand that giving up or quitting is not an option.
Leverage Opportunities for Success
This speech teaches participants how to take where they are and use it as a springboard to greater success. How to make the right connections... How to find mentors... How to use success such as awards and recognition to your advantage...
The Success Mindset/Shift into Success
Using the foundations of C. Nathaniel Brown's Book, Shift Happens Then You Live, this speech teaches how important having the right mindset is to achieve goals and reach unparalleled success. The boxer training mentality is stressed to give participants a visual aid.
How to Write and Publish a Book
Using 20+ years of writing and publishing experience and Publisher of EX3 Books, C. Nathaniel Brown speaks on the 14-step publishing process and helps participants gain the fundamental experience needed to be a successful author.
Related Speakers View all
---
Kristie Kennedy

Women's Worth & Wellness Expert, TEDx Audacious Lead...

Jessica Cox

World's First Armless Pilot & First Armless Black-Be...

Montel Williams

Emmy Award-Winning Talk Show Host Best Known For "Th...

Sir Richard Branson

Businessman & Founder of Virgin Group

Morgan Jerkins​

Contributing Editor at Catapult & Author of "This Wi...

Jonathan Sandys

Speaking on the life & leadership of my great-grandf...

Paula McDade

Women's Empowerment & Leadership Speaker, Bestsellin...

Robin Quivers

Radio Personality; Author; Actress; News Anchor & Co...

Jeffrey Kluger

Journalist; Editor and Writer at TIME MAGAZINE. Auth...

J.R. Martinez

Actor, Best-Selling Author, Motivational Speaker, Ad...

Linda Ellerbee

Award-Winning Journalist & Television Producer; Brea...

Judy Davis

Motivational Speaker and Author known as the Directi...

Bill Wooditch

Founder, CEO, and president of The Wooditch Group

Jennifer Thomas

Best-Selling Author, Motivational Speaker on Apology...

Susan Goldberg

Editorial Director of National Geographic Partners &...

Stuart A. Sands

Professional Speaker, Author, and Consultant

Dr. Scilla Elworthy

Founder of the Oxford Research Group

Herb Greenberg

TheStreet, CNBC

Heidi Ferrer

Screenwriter; Founder & CEO of GirltoMom.com; Recove...

Michael Eric Dyson

MSNBC Political Analyst, Former Host of NPR's "The M...
More like C.