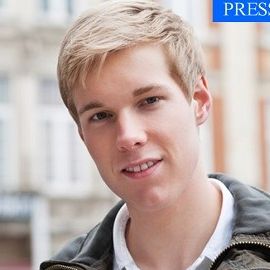 Cade Jay Hathaway
Best-Selling Author of the "Happy Endings Sleepover" Gay Fiction Series; Host of SuperSkyRadio's "Cade Jay Hathaway Radio Show"
He has only been on this planet for a quarter century, but has already accomplished more than most can dream of in a lifetime. Two years ago, Cade Jay Hathaway became a published author in the genre of gay fiction, a genre that ranks right up there with poetry and interpretive dance when it comes to public interest and book sales. But his first novel, "Happy Endings Sleepover," became a surprise hit not only with its intended gay audience, but across the board regardless of sexual orientation.
The autobiographical novels in the series reached readers with endearing characters in the difficult work of espionage in a time of terrorism, nation-state fluctuations, and changing social mores.
Cade Jay Hathaway was born and raised in a conservative town in a dedicated evangelical Christian family. He knew he was gay by the age of six, and to say that he was raised in a hostile atmosphere concerning who he was as a person would be an understatement.
He left home at the earliest legal age acceptable, and by eighteen was working aboard deep water cargo vessels as a ship's cook. It was aboard one of these MSC (Military Sealift Command) liners that he met his Central Intelligence Agency recruiter. He interviewed over a yearlong process that eventually became a career offer.
Hathaway is a Field Transport Supervisor in charge of getting American assets into and out of the countries where they are posted. His work and the love of his husband became the springboard for the "Happy Endings Sleepover" saga.
Cade Jay Hathaway is a well traveled, engaging, and enthusiastic speaker who has and continues to lives the lifestyle depicted in his books. Married to Lasse, a Danish citizen, Hathaway is a positive role model for any young gay person who feels marginalized or misunderstood.
Books
---
Related Speakers View all
---
Darren Walker

President of the Ford Foundation; Chair of the US Al...

Dan Savage

Advice Columnist & Host of the "Savage Lovecast" Pod...

Jackson Katz

Anti-Gender Violence Activist, Author

Caitlyn Jenner

TV Personality, Olympic Gold Medalist & Iconic Trans...

Pete Buttigieg

Secretary of Transportation; Former Mayor of South B...

Lawrence B. Jones III

Conservative Commentator and Editor-in-Chief, Campus...

James Duke Mason

Co-Chair of the West Hollywood Lesbian & Gay Advisor...

Mwende "FreeQuency" Katwiwa

Speaker & Performer

Tyler Oakley

YouTube Personality & New York Times Bestselling Aut...

Steven Petrow

Award-Winning Journalist & Author of "Complete Gay a...

Robin Quivers

Radio Personality; Author; Actress; News Anchor & Co...

Elvis Duran

Host of New York City Z-100's "Elvis Duran and The M...

Jason Mattera

Emmy-Nominated Journalist, Conservative Activist & A...

Jewelle Gomez

Writer, Activist & Author

Sandra Fluke

Lawyer, Social Justice Advocate, Women's Health Expert

Lena Dunham

Writer, Director, Actor & Producer Best Known for HB...

Peter Sagal

Host of NPR's "Wait Wait ... Don't Tell Me!"

Howie Carr

Journalist, Author & Conservative Radio Talk-Show Host

Andy Cohen

Host & Producer of Bravo's "Watch What Happens: Live...

Anderson Cooper

Journalist, TV Personality, Anchor of CNN's "Anderso...
More like Cade