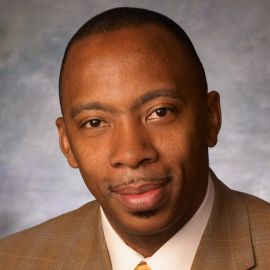 Dr. Calvin Mackie is an award winning mentor, a former engineering professor, an internationally renowned speaker and a successful entrepreneur. His message as a mentor, speaker and entrepreneur continues to transcend race, gender, ethnicity, religion and time.
After starting college in remedial reading because of weak SAT scores, Calvin Mackie earned a Bachelor of Mechanical Engineering from Georgia Tech and a B.S. in Mathematics from Morehouse College in 1990, a M.S. in 1992 and the Ph.D. in 1996 in Mechanical Engineering from Georgia Tech. He served on the Tulane University faculty from 1996-2007, where he received tenure and was promoted to Associate Professor in 2002.
A professional speaker, in 1992, he founded the Channel ZerO Group LLC (CZG), an educational and motivational consulting company. Through his national and international travels and online mentoring presence, Mackie reaches millions of youths and professionals annually.
A member of the Phi Beta Kappa, Pi Tau Sigma and Tau Beta Pi National Honor Societies, his passion for scholarship is well established. His leadership qualities and social justice advocacy are well documented. In 2005, former Louisiana Governor Kathleen Blanco appointed him to the Louisiana Recovery Authority (LRA), the guiding agency to lead the state's rebuilding efforts following Hurricanes Katrina and Rita. Possessing instant social, political, cultural and technical credibility, Mackie was featured prominently in Spike Lee's HBO Katrina documentary, When The Levees Broke: A Requiem in Four Parts (HBO 2006) and its successor, If God Is Willing and Da Creek Don't Rise (HBO 2010).
He has appeared on numerous national and local news shows, including the PBS News Hour with Jim Lehrer and the Tom Joyner Show. Mackie received international acclaim during and after a 2006 visit to the country of Kuwait as an ambassador of the LRA and the guest of the U.S. Embassy in Kuwait, appearing on Good Morning Kuwait and in numerous international Arab newspapers. In 2004, President Bush awarded him the 2003 Presidential Award for Science, Mathematics, and Engineering Mentoring in a White House Ceremony. Mackie has received numerous other awards including the Black Engineer of the Year Award for College Level Educators. In 1996, he received a patent on a device to retrofit luggage stowbins on 737 and 757 Boeing commercial airliners.
In 2009, then Louisiana Lt. Governor Mitch Landrieu appointed Dr. Mackie to the Louisiana Council on the Social Status of Black Boys and Black Men and he is leading the state's effort to create policy and programs to positively impact the quality of life of Black males and families in the state of Louisiana.
Mackie is currently a partner in Golden Leaf Energy (GLE), which produces and distributes biodiesel from waste streams. He is the author of the books: best-selling A View from the Roof: Lessons for Life and Business and Grandma's Hands: Cherished Moments of Faith and Wisdom, which recently received a silver medal in the prestigious Living Now Book Awards.
Videos
---
Speech Topics
---
The Whole Individual: How to be Motivated & Critical-Thinking in Striving to Reach Goals
If your company or organization requires an inspirational opening or thought-provoking closing, Dr. Mackie can deliver the message and unify employees around a common theme or mission. His inspirational story has become the basis of a successful speaking career, and for over ten years, his has been delivering presentations to Fortune 500 corporations, government organizations, and both civic and educational institutions around the US and abroad.
Dr. Mackie has the unique ability to connect with his audience in a way that rallies the workforce and creates buy-in for the common objectives of the management team. He will work with your leadership group to create alignment on the issues in your company that require a renewed commitment or a new direction. He brings an extraordinary perspective to sales and marketing meetings and can rev up the energy so that the entire team is focused on hitting their goals. In addition to his talents in discourse, his engineering background allows him to have a special rapport with more technical staff members who connect with his thinking and draw inspiration from his charismatic approach.
Integrating Intellectual, Spiritual & Emotional Intelligence for Peak Performance as a Corporate Leader
When Oil & Water Mix: Leadership in the Wake of a Catastrophe
Engineering Your Greatness: Key Strategy for Global Competition
Synchronizing Your Greatness for Professional Excellence
News
---
Dr. Calvin Mackie Wins Legacy Award
Dr. Calvin Mackie, motivational speaker, bestselling author, successful entrepreneur, and mechanical engineer, received the coveted Legacy Award from the ...
Related Speakers View all
---
Daymond John

"Shark Tank" Investor; Founder & CEO of FUBU; Presid...

Majora Carter

Real Estate Developer, Peabody Award-Winning Broadca...

Neal Petersen

History-Making Extreme Adventurer, Award-Winning Aut...

Montel Williams

Emmy Award-Winning Talk Show Host Best Known For "Th...

Farrah Gray

Celebrity Entrepreneur & Bestselling Author of "Real...

Stedman Graham

Chairman & CEO of S. Graham & Associates, Leadership...

Magic Johnson

Basketball Hall of Famer, Entrepreneur, Philanthropi...

Graham Hill

Founder of Life Edited & TreeHugger.com

Van Jones

CNN Political Contributor; Author; Human Rights, Edu...

Tony Alessandra

Premier Communications Expert; Author of "The Platin...

John Wood

Former Microsoft Marketing Executive & Founder and B...

Chris Sacca

Google & Twitter Innovation Guru

Tracee Ellis Ross

Actress & Youth Volunteer, Star of "Black-ish"

Robert Ballard

Renowned Ocean Explorer & Scientist

Tim Sanders

Bestselling Author, Technology Pioneer, Expert on Co...

Erin Gruwell

Founder & Executive Director of the Freedom Writers ...

Peter Diamandis

Founder & Executive Chairman of the XPRIZE Foundatio...

Robin Crow

Acclaimed Musician, Entrepreneur & Bestselling Autho...

Pat Croce

Mega-Entrepreneur & Former NBA Team Owner

Les Brown

Motivator, TV Personality & Best-Selling Author
More like Calvin