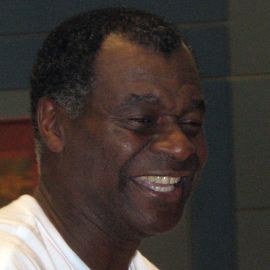 Calvin Murphy
As a basketball player Calvin Murphy had these skills: speed, quickness, great hands, ball handling skills, great leaping ability and the shooting eye of an eagle.
Calvin Murphy was a legendary NBA player.
Murphy was picked 18th in the 2nd round of the 1970 NBA draft. Murphy played 13 years with the San Diego Rockets and the Houston Rockets. He ranks second in the NBA for consecutive free throws made (78).
Murphy was the NBA leader in free throw percentage twice and was among the top five eight other times. He scored more than 1,000 points eleven straight seasons. His 17,949 career points are 35th best in NBA history. He also owns Houston's record for most assists (4,402).
Murphy is one of only two players in Houston history to have his number (23) retired.
He was an All-Star in 1979.
Calvin Murphy currently works with the Rockets as an analyst for televised games.