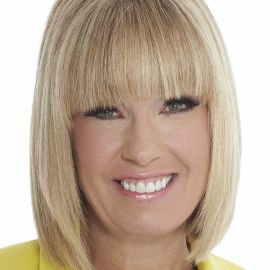 Nicknamed 'The Balay Lama®', Candy literally grew up in the beauty business as the daughter of Jamison Shaw, a former world-champion competition hairdresser, and professional make-up artist Sara Shaw. Candy's been a hairdresser and educator all her adult life with over 35 years' experience. Candy owns Jamison Shaw Hairdressers®, a fifty-year-young, 5,000 square-foot, 50-chair salon in Atlanta, Georgia. Candy still works 'behind the chair' and, with the aid of between four and six assistants, sees up to 35 guests each day.
Candy is regarded as the world's foremost authority on balayage education. She founded The Academy at Jamison Shaw, an advanced training facility teaching French Cutting and Balayage Highlighting, more than twenty years ago.
In 2014, Candy launched a professional product line called Sunlights Balayage, the makers and purveyors of the world's leading balayage products and education. The line features SUNLIGHTS® Professionnel Balayage Lightener, a proprietary, state-of-the-art, kaolin (clay) based lightener specifically formulated for balayage, and THE BALAY BOX®, a 'complete balayage class in a box' containing everything a stylist needs to become a balayage expert. Recently referred to as 'the world's fastest-growing, most recognizable hair color brand,' SUNLIGHTS is now available in eight countries.
Candy serves on the Board of Directors of Intercoiffure America-Canada, the world's most prestigious international salon organization, and is also the New Member Chair. Candy is a past recipient of Intercoiffure's 'Award of Excellence' and was named 'Personality of the Year' by Intercoiffure Mondial in Paris.
Candy is celebrated as 'One of the World's Most Published Stylists' for having hundreds of images published annually. She's done hair for the Grammys, the American Country Music Awards, the Cannes Film Festival, Mercedes Benz Fashion Week and a Playboy Mansion soiree. American Salon has called her one of the 'most powerful and influential women in the professional beauty industry' and Modern Salon describes her as "truly 'the face of our industry'-- highlighting all that is good about the salon community." Canadian Hairdresser refers to her simply as 'the blonde whisperer.'
Some of Candy's celebrity clientele include Carrie Underwood (Candy did the hair for Carrie's 2010 wedding featured in People magazine), Miranda Lambert, Karina Smirnoff, Todd Chrisley of Chrisley Knows Best, Playmate of the Year Tiffany Fallon, Annika Sorenstam, and The Rascal Flatts. Candy's salon is the official salon of the Atlanta Falcons Cheerleaders.
Candy recently received the following awards: 'Start-Up of the Year', 'Maverick of the Year', 'Female Entrepreneur of the Year', 'Woman of the Year-Women Helping Women', Atlanta's 'Small Business Person of the Year' and the 'Jerry Gordon Salon Business Leadership Award'. She was also named North America's 'Educator of the Year' by Intercoiffure. Candy is married to Fred Codner, Esq.; together they have three children: Jamison, 28 (her companies' COO); Jesse, 26 and Jenna, 17.