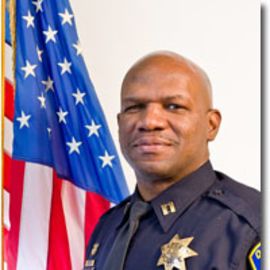 Captain Ersie M. Joyner
Captain of the Oakland Police Department
Born and raised in Oakland, California, Ersie M. Joyner III has devoted the past 25 years to serving his community as both police officer and a resident dedicated to improving public safety. Ersie began his career at the Oakland Police Department in 1991 as a patrol officer, and throughout his career has held a wide range of positions to include many supervisory and command level assignments.
As a police officer, Ersie was assigned to the patrol division and later the Department's Special Duty Unit as both an undercover narcotics officer and task force member, dedicated to addressing the violence associated with street-level narcotic trafficking. He also served as a member of the Department's Tactical Team (SWAT) and received numerous awards for his performance to include the Oakland Police Department's Medal of Merit in recognition for making over 460 undercover narcotics buys, 400 narcotic related arrests, the recovery of 42 firearms, $2,250,000 in narcotics, and seizing over $94,000 dollars during a one year period. Ersie was selected to become a deputized federal agent with the FBI to work on an 18-month case that involved seizures and arrest in Mexico, Texas, and Los Angeles.
After being promoted to Sergeant in 1996, Ersie served as an investigator in the Department's Homicide Unit. During his five years assigned to the Homicide Unit, Ersie was the lead investigator in over 75 homicide cases and was able to attain a 75% case clearance rate. Several of Ersie's cases went to the highest court of review and were upheld becoming case law for California. After serving in the Homicide Unit, Ersie was selected as a founding member and supervisor of the Department's Targeted Enforcement Task Force, a multi-agency unit dedicated to investigating and dismantling the most violent criminal organizations in Oakland.
Ersie was promoted to Lieutenant of Police in 2006 and returned to command the Department's Homicide Unit where in addition to overseeing all homicide investigations, he was responsible for managing the investigation of all officer-involved shooting investigations. During his command of the Homicide Unit, his team investigated 373 murder investigations, 30 officer involved shooting investigations, and assisted the Department with a number of high-profile investigations to include the Nina Riser case (missing body investigation resulting in a conviction). In 2009, Ersie was selected as a Patrol Division Commander and assigned to the Bureau of Field Operations from where he was promoted to Captain of Police in 2010. While assigned as a Patrol Division Area Commander, he was responsible for all police services within a large geographic area and the oversight of 7 Lieutenants, 19 sergeants, 116 officers, and 8 civilian employees.
Ersie currently serves as the Department's Ceasefire/Compstat Commander assigned to the Office of Chief of Police where he is responsible for commanding/directing the City of Oakland's city-wide violent crime fighting strategy, an approach based upon the nationally recognized, evidence-based "Operation Ceasefire" strategy that has produced multi-year reductions in serious violence in a variety of cities across the country. As the commander, Ersie provides guidance, strategy development, and coordinates the implementation of the program with the Mayor's Office, OPD, community leaders, local clergy, community-based organizations, Alameda County District Attorney's Office, and state and federal law enforcement partners while using the Compstat model as a multilayered dynamic approach to crime reduction, quality of life improvement, and personnel and resource management for the entire city. In addition to his duties at the Oakland Police Department, Ersie has served as a certified instructor for the California Police Officer Standards & Training Commission (POST), the Federal Law Enforcement Training Center (FLETC), and has instructed at various colleges in the Bay Area, as well as a Board Member of the California Homicide Investigators Association (CHIA). During his career, Ersie has received the Oakland Police Department's Medal of Merit six times (making him the most decorated officer in OPD history), was selected as the Department's Officer of the year in 2002, and has received numerous awards from the community in recognition for his dedication and service to the city of Oakland. Captain Joyner resides in Oakland with his wife and two children.
He has also consulted on TV/Films for Hollywood and is currently advising on the Apple TV series, Are You Sleeping - starring Octavia Spencer & Reese Witherspoon.
Videos
---
Related Speakers View all
---
James Bell

Founder & President of the W. Haywood Burns Institute

Sunny Hostin

Co-Host of "The View," Attorney, Author and Emmy Awa...

Angela Davis

Feminist, Social Activist, Professor & Writer

Erin Brockovich

Consumer Advocate, Author, TV Host & Environmental A...

Nina Hobson

Private Investigator, Former Undercover Crime Detect...

Michael C. Barnes, JD

Partner at DBCA Law & Policy; Chairman of the Center...

Tracie L. Keesee, PhD

Co-Founder of the Center for Policing Equity, Retire...

Ron Stallworth

Retired Police Officer who Infiltrated the Ranks of ...

Anthony Ray Hinton

Former Wrongfully-Convicted Prisoner Held on Death R...

Antionette Carroll

Founder and CEO of Creative Reaction Lab

Amanda Knox

Writer and Activist Wrongfully Convicted of Murder i...

Mayor Aja Brown

Mayor, City of Compton

Ron Sims

Former Deputy Secretary for the US Department of Hou...

Erin Gruwell

Founder & Executive Director of the Freedom Writers ...

Eyoälha Baker

Artist, Community Engagement Activator & Social Acti...

Maryum Ali

Youth Development & Juvenile Crime Prevention Expert...

Mara Mintzer

Co-Founder of Growing Up Boulder

Leon Ford Jr.

Community Activist & Speaker

Dionna Griffin-Irons

Director of Diversity & Inclusion for The Second Cit...

Royal Oakes

ABC News Legal Analyst
More like Captain