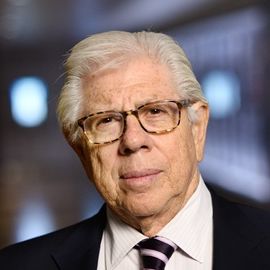 Few journalists in America's history have had the impact on their era and their craft as Carl Bernstein. For forty years, from "All the President's Men" to "A Woman-In-Charge: The Life of Hillary Clinton," Bernstein's books, reporting and commentary have revealed the inner-workings of government, politics, and the hidden stories of Washington and its leaders.
Bernstein began his journalism career as a copy boy for The Washington Evening Star and later became one of the reporters who broke the Watergate story for The Washington Post alongside Bob Woodward. This revelation would lead lead to the resignation of President Richard Nixon and set the standard for modern investigative reporting, for which they and The Post were awarded the Pulitzer Prize.
With Woodward, Bernstein wrote "All the President's Men" (adapted into a movie starring Robert Redford and Dustin Hoffman) about their coverage of the Watergate story. Since then, Bernstein has continued to build on the theme he and Woodward first explored in the Nixon years: the use and abuse of power, whether it's political, in the media, financial, cultural or spiritual.
From 1977-78, Bernstein spent a year investigating the CIA's secret relationship with the American press during the Cold War. The resulting 25,000-word article for Rolling Stone, entitled "The CIA and the Media," was the first to examine a subject long suppressed by both American newspapers and the intelligence community. Since his famous essay, "The Triumph of Idiot Culture," a 1992 cover story for The New Republic about increasing sensationalism, gossip and manufactured controversy as staples of the American press, he has proved a prescient critic of his own profession.
The author of five best-selling books, Bernstein is currently also at work on several multi-media projects, including a memoir about growing up at a Washington newspaper, The Evening Star, during the Kennedy era; and a dramatic political TV series with David Simon of "The Wire" for HBO. He is also an on-air contributor for CNN and a contributing editor of Vanity Fair magazine.
Renowned as a prose stylist, he wrote a classic biography of Pope John Paul II, served as the founding editor of the first major political website, and even had tenure as a rock-critic at The Washington Post. His next book was a masterful memoir of his family's experience in the McCarthy era, and is titled "Loyalties: A Son's Memoir." In 2008 he released the national bestseller "A Woman In Charge: The Life of Hillary Rodham Clinton," acclaimed as the definitive biography of its subject.
Books
---
Related Speakers View all
---
Bob Woodward

Legendary Pulitzer Prize-winning Journalist/Author a...

Ben Stein

Political Economist, Commentator, Author & Actor

Katty Kay

Anchor on BBC World News America; Co-Author of "Wome...

Van Jones

CNN Political Contributor; Author; Human Rights, Edu...

Dan Abrams

Chief Legal Affairs Anchor at ABC News & Founder of ...

Donna Brazile

Veteran Political Strategist, Bestselling Author, Fo...

Amy Goodman

Host & Executive Producer, Democracy Now!

Barney Frank

U.S. Congressman (1981-2012); Chairman, House Financ...

Anderson Cooper

Journalist, TV Personality, Anchor of CNN's "Anderso...

David McCullough

Historian and Bestselling Author

Parag Khanna

Leading Geo-Strategist & Author

Dr. Michio Kaku

World-Renowned Futurist & Theoretical Physicist

Laura Ingraham

Political Commentator, Television Host & Journalist

Gloria Allred

Renowned Women's Rights Attorney; Subject of Netflix...

Maureen Dowd

Pulitzer Prize-Winning Columnist for The New York Ti...

Geoff Colvin

Editor & Columnist at Fortune Magazine; Author of "H...

Charles Blow

Visual Op-Ed Columnist for The New York Times; CNN C...

Angela Rye

Attorney, Principal & CEO of IMPACT Strategies, CNN ...

Juan Williams

New York Times Best-Selling Author, Fox News Politic...

Calvin Trillin

Author, Columnist, Humorist & Political Satirist
More like Carl