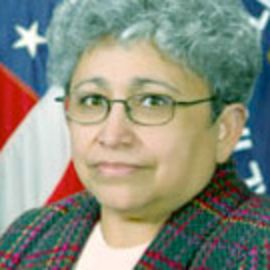 Carmen Medina
Recently retired Deputy Director of Intelligence, Central Intelligence Agency.
Working for the Central Intelligence Agency for over 30 years has given Carmen Medina a sharp appreciation for the idea of transparency. Even the covert world of intelligence could stand a little more visibility, she insists.
Recently retired from her position as Director of the Center for the Study of Intelligence and before that, as Deputy Director for Intelligence, , Medina is now enjoying the openness of social networking culture, immersing herself in Twitter and in her blog, RecoveringFed. She is exercising the freedom of platforms normally eschewed by her former employer.
The CIA is a "dinosaur," she says, when it comes to transparency. "Their business is information and secrecy. For them to think about adapting transparency—it's a theological issue. The CIA will end up being the last secret organization in the world, and being the last of anything is usually not a good thing."
In her retirement, Medina has been spending time at her mother's home in the hill country of Texas, where she says she basks in the luxury of thinking—and tweeting. Free from the demands of clandestinity and secrecy, she has become a Twitter fanatic (@milouness).
"Twitter is an idea factory," she says. "It's kind of self-referencing—you not only see the ideas of people you follow, but they also get presented right next to each other in your Twitter stream. Two people who don't know each other at all might have thoughts that are totally unrelated to each other, but I connect them and that generates another idea for me."
This is a new reality for Medina, who spent her professional life working in the most closed information network imaginable. She proposes a hypothetical situation to demonstrate the inefficiency of this system, even at the CIA:
Suppose the agency identifies a terror threat from country "X." It might then assign 100 analysts to examine every single piece of information related to that threat. But what if they haven't scaled correctly? What if 100 analysts are not enough to adequately assess all the available intelligence? The expectation that the U.S. government will prevent 100 percent of the terror threats from country "X" will clearly be disappointed.
"Their business is to make sense of the world and it's really hard to do that in a closed network," Medina says.
Instead, she advocates an open network approach that would make the same intelligence available to thousands of other CIA analysts who might pick up on something crucial and make an unexpected contribution to the available data. "Let all that information flow through them," Medina suggests. "They can scan it as a sort of backup to the primary problem. You could scale it much better and have a diversity of people to look at it."
Having worked for the CIA for so long, though, Medina is somewhat forgiving of the agency's lack of imagination, given the high reliability-high performance nature of intelligence. Taking risks is not an option. But she says businesses that can afford a little flexibility should jump in while they have the chance.
"My story is about what it's like to be a person in an organization like the CIA and trying to nudge it, about doing what you can to shift it from that perspective," she says. "Most other companies don't have an excuse for not changing. If you're not thinking of changing your business, then shame on you."
Some people fear the transparency that Medina sees as the highlight of any change agenda. They see themselves giving up territory or becoming devalued in some way. Medina roundly dismisses this notion because we will always need a discrete group of individuals to work on particular projects, and that group will always need an expert manager. Higher visibility will simply enable peers to correct each other as a project moves forward, before a glitch turns into a major problem.
"I have no sympathy for the person who says, I want my work to be private," she says. "When you are writing the great American novel, you get to be private. The worst possible time to make a fix is toward the end of the project. In a transparent work design, the expert's work will change and other roles will emerge."
Videos
---
Related Speakers View all
---
Anita Krohn Traaseth

CEO of Innovation Norway

Terry Yates

Smart Cities Chief Innovator for Cary, NC

James Anderson

Head of Government Innovation Programs at Bloomberg ...

Bobby Lo

Founder & CEO at Vurb; Director of Product at Snapchat

Maurice Conti

Chief Innovation Officer at Alpha; Former Director, ...

Joe Gebbia

Co-Founder, Chief Product Officer, Airbnb

Linda Avey

Co-founder of 23andMe and Curious, Inc.

Brian Chesky

Co-Founder, CEO & Head of Community at Airbnb

Nicole Yeary

Founder & CEO of Ms.Tech

Saj-Nicole Joni

Business Strategist & Advisor

R "Ray" Wang

Founder, Chairman & Principal Analyst at Constellati...

Colin Shaw

Customer Experience Thought Leader, CEO of Beyond Ph...

John Hagel

Independent management consultant and author

Elayne Fluker

Entrepreneurship Coach, Host of "The Elayne Fluker S...

Lynne McGregor

Innovation Lead of Innovate UK High Value Manufactur...

Bob Moesta

Founder, President & CEO of the Re-Wired Group

Adam Kingl

Future of Work Speaker, Former Regional Managing Dir...

Francis Pierrel

Global Brand President & CEO at Club Monaco

Shelby Walsh

President at Trend Hunter & WXN's Top 100 Most Power...

Jonathon Brown

Chief Growth Officer at Trend Hunter
More like Carmen