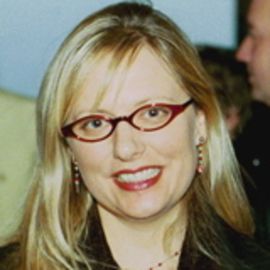 Carri Bugbee
principal of Big Deal PR
Carri Bugbee has been helping innovators with brand image development, marketing and public relations for over 22 years. With experience in categories as diverse as enterprise technologies, creative services, retail, education and construction, Carri is especially adept at helping entrepreneurs develop communication strategies that will remain relevant as their companies grow and competitive environments change.
As a seasoned writer and project manager, Carri has worked on nearly every type of marketing project imaginable – always ensuring that strategic positioning and on-target messaging are at the heart of each execution. Of course, Carri's strategic focus extends to press relations as well. As a vigilant trend-watcher and avowed news junkie, she has a knack for translating clients' competitive advantages into newsworthy story ideas.
Carri teaches a class in social media marketing at Portland State University and she developed the Social Media Masters Program in Twitter for Social Media Club International. She has provided training in social media marketing for private businesses, executives, and entertainers, along with non-profits and organizations such as the Portland Metro Government. She is also a contributing author for "The Big Book of Social Media Case Studies, Stories, Perspectives" which was published November 2010.
She speaks at numerous conferences and seminars about social media marketing. Past appearances include OMMA Global, the Cool Twitter Conference (Seattle keynote, L.A. and Chicago), South by Southwest Interactive [video], 140 Characters Conference in New York City [video], O'Reilly Twitter Bootcamp, SocialFresh, OnHollywood (by AlwaysOn), WebVisions, Innotech, the Governor's Conference on Tourism (Oregon), the Communicator's Conference, the American Marketing Association Roundtable, and many other events.
She has been featured and/or quoted in the Wall Street Journal, BusinessWeek, The New York Times, AMCtv.com, The Oregonian, CNET, 'Boards, Clickz, The Daily Beast and many other marketing industry publications. She's also conducted video interviews with Advertising Age, MediaPost, BusinessWeek, KGW News/The Square, KOIN-TV and the Twitter Road Trip.
In 2009, Carri received a Shorty Award in advertising for being an outstanding content producer on Twitter. She won for tweeting (anonymously) and garnering thousands of loyal followers as Peggy Olson, a character from the AMC hit drama, "Mad Men." She was also a finalist in the Sammy Awards' Best Twitter Branding Category and in the SoMe Awards Wildcard category in 2009.
As the founder and former president of Portland Social Media Club, she launched and co-produced the Pacific Northwest's first annual SoMe Awards in 2009 and 2010 to honor excellence in social media. She also served as marketing chair for the Portland Creative Conference and co-founded Cre8Camp in 2008.
While Bugbee has been self-employed for over 17 years, she started her marketing career working for industry heavy-weights Wieden + Kennedy and Hill & Knowlton.
Carri received a B.A. in Journalism from the University of Oregon with emphases in both advertising and public relations. When Carri isn't immersed in social media (which is rarely), she might be tap dancing or singing jazz.
Related Speakers View all
---
Cathy Brooks

Evangelist & Rabblerouser The Everything Project

Carla Borsoi

VP, Consumer Insights AOL

Margot Bloomstein

Principal, Brand & Content Strategist Appropriate Inc

Marguerite Avery

Senior Acquisitions Editor, The MIT Press Cambridge,...

Christine Auten

Interactive Festival Producer, SXSW

Meredith Artley

Senior Vice President & Editor in Chief at CNN Digit...

Addie Broyles

Austin American-Statesman

Jack Buser

Senior Director, Playstation Digital Platforms Sony ...

Carson Block

Sr Consultant Carson Block LLC

John Biehler

Photographer, blogger, gadget geek, mobile phone ner...

Rohit Bhargava

Branding Expert; Bestselling Author; Founder of the ...

Jen Bekman

Founder and CEO of 20x200/Jen Bekman Projects Inc

Marty Beckerman

Writer

Scott Aukerman

American Writer, Actor, Comedian, Television Persona...

Steve Blank

Serial Entrepreneur; Founder, Lean Startup Movement

Leah Busque

Founder & CEO of TaskRabbit.com; General Partner at ...

Kara Andrade

Co-founder & Coord HablaCentro.Com

Sabrina Caluori

Dir, Mktg HBO

Mike Butcher

Editor-At-Large, TechCrunch

Jon Burkhart

Founder, TBC Global; Keynote Speaker; Content Strate...
More like Carri