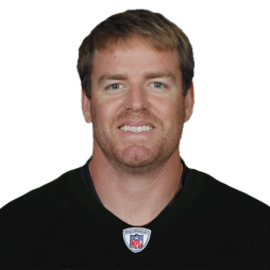 He was drafted by the Bengals with the first overall pick in the 2003 NFL Draft and signed a 6-year, $118.75 million contract extension on December 29, 2005.
Carson Palmer did not play at all during his rookie season. In fact, veteran quarterback Jon Kitna took every snap during the 2003 season, during which Kitna was named NFL Comeback Player of the Year. Palmer instead watched and became familiar with the Bengals offense during games and practices under head coach Marvin Lewis, quarterbacks coach Ken Zampese, and Kitna. Under Kitna, the Cincinnati Bengals finished 8-8, their first non-losing season since 1996.
Before the Bengals' 2004 training camp, head coach Marvin Lewis had a dilemma over who would be his starting quarterback: the steady, if unspectacular Jon Kitna, or young Carson Palmer. He chose Palmer, and Kitna graciously moved to the dual role of backup quarterback and mentor.
While Palmer suffered from growing pains, he passed for 2,897 yards, 18 touchdowns, and 18 interceptions in 13 games, and the Bengals again finished 8-8. His performance greatly improved the stature of the Cincinnati Bengals among pundits and fans alike.
In 2005, Palmer led the Bengals to an 11-5 record and an AFC North division title, their first division title since 1990. In doing so, Carson Palmer became the first Bengals quarterback to finish with a 100+ passer rating, tied Indianapolis' Peyton Manning for most consecutive games with a triple digit passer rating, led the NFL in completion percentage, and set a Bengals franchise record by throwing a league-leading 32 touchdown passes. He also set the franchise record for highest passer rating in a season.
On December 21, 2005, Carson Palmer was one of five Bengals voted to the 2006 Pro Bowl game. The others were offensive tackle Willie Anderson, kicker Shayne Graham, receiver Chad Johnson, and cornerback Deltha O'Neal. This would have been Palmer's first Pro Bowl appearance, but he did not play due to a severe knee injury that was inflicted upon him in the wild card round of the 2005 playoffs against the Pittsburgh Steelers in Cincinnati on January 8, 2006.
Videos
---