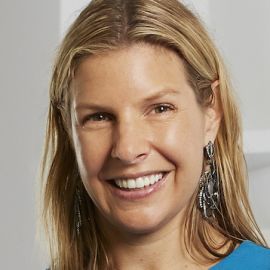 Caryn Seidman-Becker is the Chairman and CEO of CLEAR. Caryn led the acquisition of CLEAR in 2010 and has guided the revitalization and re-launch of the company. She drives the overall direction and vision for the company as the CLEAR team works to build a world where it's simple to be you through its biometric network. Caryn also oversees (obsesses over) the customer experience, marketing, business development, and people development. Caryn and CLEAR Co-Founder and President Ken Cornick previously co-founded Arience Capital and have been business partners for over 16 years.
In 2004, Caryn created the The Happy Elephant Foundation which supports education, child wellness, and the New York City community. Caryn is the Chairman of the Board of Trustees for the Ethical Culture Fieldston School in NYC.
Caryn received a B.A. in Political Science from the University of Michigan. She lives in NYC with her husband Marc and three children.
Videos
---