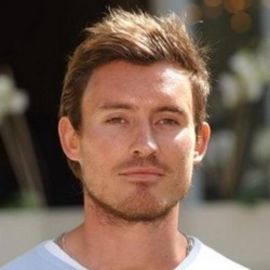 Casper Zafer
Casper Zafer is an actor who played Finn in The Vampire Diaries.
His father is Ukranian and Casper Zafer was brought up in the Middle East.
Since 2001, Casper Zafer has been present in the film industry. From 1994-1997 he studied performing arts at the University College of Ripon and York St John, UK.
He first starred in Dream Team, a TV series about an English Premiership club as Andrei Belanov. Shortly after he appeared in the BBC movie, The Hound of the Baskervilles. In 2004 Casper was very busy; he appeared in three different films, The Lady Musketeer as Gaston, Peperoni ripieni e pesci in faccia (Too Much Romance...It's Time for Stuffed Peppers) as Francesco and in Nature Unleashed: Tornado as Daniel. The last film that he starred in was Monsieur Francois as Michael Scott who is a small time film producer. Most recently Casper has starred in the CW's hit TV show, The Vampire Diaries as Finn, one of the original vampires who Klaus had daggered and moved around the country in a coffin with the rest of his family. Unfortunately, his role of Finn was short lived as he became another causality in the war against the Original family.
Related Speakers View all
---
Marshall Allman

Marshall Allman is an American actor. He is known to...

Patrick Brennan
Erik Odom
Alex Meraz

Dancer, Actor, Martial Artist

Guri Weinberg

Guri was born in August 1972 in Israel. When he was ...

Jr Bourne

Actor, Know for "Teen Wolf" and "Somewhere Between"

Dylan O'Brien

Actor Known for his Role in "The Maze Runner" and MT...

Colton Haynes

Actor; Best Known for "Teen Wolf" and "Arrow"

Tyler Posey

Actor and Musician; Best Known for His Role as Scott...

Matt Mccoy

Matt McCoy is an American actor.

Niklaus Lange
Jerry Lambert

Jerry Lambert is an American stage, film, and televi...

Tom Kiesche

Tom Kiesche is an American actor.

Frazer Hines
Eddie Mcclintock

Eddie McClintock is an American actor who has starre...

Chris Conner
Larry Cedar

Larry Cedar is an American actor and a voice actor b...

Lorenzo Callender
Mac Brandt

Mac Brandt is an American actor.

Billy Burke

Actor Known for His Role in the "Twilight" Saga Film...
More like Casper