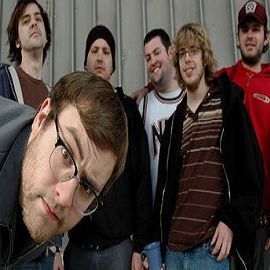 Catch 22
Catch 22 is an American ska punk band from East Brunswick Township, New Jersey. The band was formed in 1996 by guitarist/vocalist/songwriter Tomas Kalnoky, who left the band in 1998 and later formed Streetlight Manifesto.
Catch 22 was born in the fall of 1996 when budding musicians Tomas Kalnoky and Chris Greer met Kevin Gunther at a local record store. The three became fast friends and quickly discovered a mutual love of music, namely punk & ska. Fed up with the stagnation of the scene, they quickly set out to create a newer, younger sound. Joining with mutual friends Jamie Egan and Ryan Eldred (and a few other, tempory members) the band began playing local shows with great success, exciting crowds throughout New Jersey with their fresh approach to music. Needing a name, the band settled on the ironic Joseph Heller masterpiece, Catch 22. For the next two years the six-piece ensemble sold-out shows throughout the Garden State. Fueled by the success of their 2,000 copy selling demo "Rules Of The Game," Catch 22 began seeking a label.
The band found a home at Victory Records in late 1997. The story of how they came to be the first ska band signed to the predominately hardcore label, is one of luck & good-fortune according to Gunther. "We sent our demo out to every small, independant label we could find." As luck would have it, one of those labels was a death-metal label by the name of Toybox Records, headed by Sean Bonner, an employee of Victory. Bonner was listening to the demo at Victory one day, when label owner Tony Brummel heard it through the wall. "Sean was playing our demo and Tony heard it by chance, apparently he liked it, because the next day he contacted us," says Gunther. Within two-weeks the band was signed to Victory. "It was the greatest day of our lives," drummer Greer laments. "We couldn't believe it was happening."
The band went into the studio soon after to record what would become their first full-length "Keasbey Nights" The highly touted and anticiapated album didn't dissapoint, quickly climbing the CMJ charts, debuting at #77. It was only the begining for the band. Within a year Keasbey Nights became one of the top-ten selling Victory albums of all time. With the new album under their belts the band hit the road, taking their energetic sound to America's youth. The band quickly found that word of them was spreading. Show after show, town after town, Catch 22 was met with open arms by fans of punk, ska and hardcore alike. Front-man Kalnoky soon decided that touring wasn't the life for him and opted to give up the band for his pursuit of higher education. Catch 22 found themselves without a singer and guitarist.
Bassist Pat Calpin moved over to the guitar and felow Jersey musicians Jeff Davidson and Pat Kays moved in to fill the gaps. With a newer, more energetic line-up. Catch 22 took to the road with Ten Foot Pole, for what became their biggest tour yet. "It was amazing," says Gunther. "We were worried that people wouldn't like us as much with the new line-up, but it seemed that everywhere we went, the kids were more into it than ever." Following the tour the band went back into the studio to record their highly anticipated sophomore relaese "Washed Up." In the late summer of 2000, the band acquired trombonist Ian McKenzie from the late, great band Edna's Goldfish. They recently released their new album, Alone In A Crowd, and are kicking their release off with a tour of the Eastern US.
Videos
---
Related Speakers View all
---
Béla Fleck

Banjo Artist; 15-Time Grammy Winner

Rich Homie Quan

Rising Atlanta Rapper; Known for his Single "Type of...

Moe BellaGloria

Professional Singer & Entertainer

ZOX

It's so cool to see how far Zox Straps has come even...

Zebrahead

Zebrahead spent summer 2006 on the Warped Tour while...

Young Love

Prior to creating Young Love, Dan Keyes fronted the ...

Wylde Bunch

WYLDE BUNCH Writes and Records Anthem for FOX SPORT...

WOMEN

Women haven't always had an easy time achieving grea...

Wolf Parade

It's the name of Wolf Parade's third LP, out June 29...

Willy Mason

Willy Mason (born November 21, 1984) is an American ...

The White Stripes

The White Stripes were an American alternative rock ...

What Made Milwaukee Famous

What Made Milwaukee Famous is an indie pop-rock band...

Ween

Ween is an American experimental rock group formed i...

We Were Promised Jetpacks

Scottish Indie Rock Band Known for Singles Like "Qui...

We Are The Fallen

We Are the Fallen is a rock band consisting of forme...

War

War (originally called Eric Burdon and War) is an Am...

The Wallflowers

American Rock Band

VHS or BETA

VHS or Beta is a house/disco band that infuses eleme...

Under the Influence of Giants

"Once there was a way to get back homewards…"

Umphrey's McGee

Umphrey's McGee is an American progressive rock jam ...
More like Catch