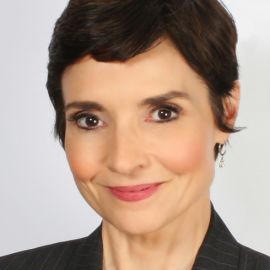 Catherine Herridge
Senior Investigative Correspondent at CBS News; Former FOX News and Homeland Defense Correspondent
Award-winning journalist Catherine Herridge is a senior investigative correspondent at CBS News. Previously, Herridge worked as Chief Intelligence correspondent for FOX News Channel.
In a statement released through CBS, Herridge stated, "CBS News has always placed a premium on enterprise journalism and powerful investigations. I feel privileged to join a team where facts and storytelling will always matter."
Prior to joining CBS News in October 2019, Herridge covered intelligence, the Justice Department and the Department of Homeland Security. Herridge joined FNC in 1996 as a London-based correspondent.
A lead correspondent for the network's coverage of the 9/11 Benghazi terrorist attack, Catherine was first to report on September 12th, based on an interview with the chairman of House Intelligence Committee, Congressman Mike Rogers that "It was a coordinated, military-style, commando-type raid." On September 17th, one day after Ambassador's Rice's controversial claims on the Sunday talk shows, Catherine was first to report there was no demonstration at the consulate when the attack unfolded.
Herridge has also reported from Afghanistan, Iraq, Qatar, Israel and Guantánamo Bay. She has covered stories including the ethnic conflicts in the former Yugoslavia, the Northern Ireland peace agreement, the investigation into Princess Diana's death and 9/11 in New York City. She is one of the few reporters to sit in the same military courtroom as the self-described architect of the 9/11 attack, Khalid Sheikh Mohammed, and his four alleged co-conspirators. Herridge and the network's team of investigative journalists traveled across the United States and to Yemen to complete an eighteen-month investigation into al-Awlaki, who was linked to three of the 9/11 hijackers, the Fort Hood attack, the attempted bombing on Christmas Day 2009, the failed attack on Times Square in May 2010, and the cargo printer bomb plot in October 2010. "The Washington Post" described the resulting documentary as "an explosive hour."
Among her exclusives: a classified State Department cable sent in August 2012 by Ambassador Chris Stevens warning Secretary Clinton's office that the consulate could not withstand a coordinated assault. Secretary Clinton, Secretary Panetta, and Chairman of the Joint Chiefs Gen. Martin Dempsey were all pressed during House and Senate hearings on Benghazi about the cable's warning, and whether they acted upon it. The classified cable foreshadowed how Ambassador Chris and three other Americans would die on 9/11.
Additionally, Herridge covered Hillary Rodham Clinton's Senate campaign in 2000. She was also a New York-based correspondent for the Fox Broadcasting Network newsmagazine "Fox Files" where she led investigations into Medicare fraud, prescription drug abuse and child prostitution. Her work on Fox Files was recognized with the Bronze World Medal from the New York Festivals, honoring excellence in communications media.
Herridge's recent book published by Crown, "The Next Wave: On the Hunt for al Qaeda's American Recruits," exposes the new face of terrorism and predicts the source of future threats in the Middle East and North Africa.
Herridge comes from a military family, so her national security reporting is deeply personal. In 2005, her family made national headlines when Catherine donated part of her liver to their younger son of two children, Peter, for a lifesaving transplant. She is now an outspoken advocate for organ donation.
A graduate of Harvard College and the Columbia School of Journalism, Herridge began her career as a London-based correspondent for ABC News.
Videos
---
Speech Topics
---
Al Qaeda's future after Osama Bin Laden—Are we safer?
Al Qaeda 2.0—homegrown terrorism, social networking, and the new digital jihadist
Al Qaeda's next wave of operations: the affiliates in Yemen, Somalia, North Africa, and Nigeria
The first American on the CIA's kill or capture list, Anwar al-Awlaki, and why the full story of 9/11 was never told
Related Speakers View all
---
Harris Faulkner

Award-Winning Newscaster; TV Host for Fox News Channel

Martha MacCallum

Host of "The Story with Martha MacCallum" on FOX New...

Shannon Bream

Journalist, Host of Fox News at Night & Author

Greta Van Susteren

TV News Anchor, Commentator, Lawyer, Former Host of ...

Linda Ellerbee

Award-Winning Journalist & Television Producer; Brea...

Morton Kondracke

Political Commentator & Columnist

Dan Abrams

Chief Legal Affairs Anchor at ABC News & Founder of ...

Keith Ablow

America's Psychiatrist

Eric Shawn

Senior Correspondent and anchor for FOX News

Carl Cameron

Former Chief Political Correspondent for Fox News; C...

Mark Grimm

Former TV Anchor Is Thought-Provoking Speaker

Leslie Dodson

Reporter & Videographer Covering International Finan...

Bill O'Reilly

Host of "The O'Reilly Factor," Best-Selling Author &...

Tina Marie Jones

Connecting with the audience through the style of a ...

Mo Stegall

Global Brand Ambassador, Motivational Speaker, Bests...

Jim Angle

Jim Angle is a respected journalist at FOX News.

Trish Regan

Investigative Journalist, Host of "Trish Regan Prime...

Juan Williams

New York Times Best-Selling Author, Fox News Politic...

Nicholas Kristof

Pulitzer Prize-Winning New York Times Columnist & Po...

Montel Williams

Emmy Award-Winning Talk Show Host Best Known For "Th...
More like Catherine