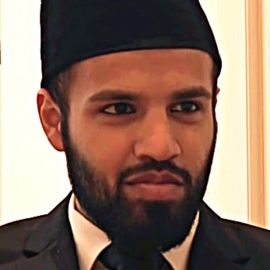 Chaplain Zahir Muhammad Mannan
Peace Activist
Chaplain Zahir Muhammad Mannan serves the Ahmadiyya Muslim Community, America's oldest and largest Islamic Organization, on a voluntary basis. He serves its statewide Connecticut Chapter whose center is Baitul Aman "House of Peace" Mosque in Meriden as a leading member of the Executive Board, the elected Outreach and Propagation Director, and Holy Quran Education & Voluntary Devotion Director. He also serves as a statewide Spokesperson, Press and Media Coordinator, and Advanced Holy Quran Class Teacher for the Tahir Academy, its school of religious education. His eldest brother Nasir Mannan serves as its Principal. He serves nationally as a Spokesman and on the national Press & Media Team for America's largest and oldest Muslim Youth Organization, the Ahmadiyya Muslim Youth Association (AMYA). He also serves AMYA as the regional Interfaith Outreach Director. He is also a leading member of the Muslim Writers Guild of America and frequently publishes on theological, civil, and human rights import in Hartford Courant, New Haven Register, Record-Journal, and other news and media outlets locally and nationally such as the New York Times. He is also a leading member of the Executive Steering Committee of the Faith Based Initiative in Hartford, the Meriden Clergy Association, and the CT River Valley Clergy Alliance, which he helped found.
Zahir was recently chosen by the Meriden Police Department to serve as a voluntary Chaplain ministering to the needs of law-enforcement Officers. He has served a diverse spectrum of religious and humanitarian organizations in diverse capacities including national follow-up coordinator for muslimsforpeace.org 1-800-WHY-ISLAM, local Youth President, and Publications Director. Zahir frequently gives interviews on prominent press and media news outlets including BBC, PRI, NPR, Christian Science Monitor, WBUR, Think Progress, New York Times, FOX 61, NBC CT, WTNH News 8, WFSB Eyewitness News 3, ABC, and gave an interview with NBC's the Today Show (featured on our national campaign website against extremism TrueIslam.com). He is an orator who delivers public talks and presentations on inter religious commonalities, harmony, interfaith understanding, and dialogue at diverse Houses of Worship and various institutes and other public and private venues to bring our focus back to our unified Creator and helping humanity in righteousness, peace, and justice.
Zahir served as a voluntary Chaplain at the Federal Correctional Institution in Danbury in 2016 where he spent hours with his brother Ted Hakey Jr. Zahir opens the doors of his Mosque to the public every Friday at 7 pm hosting an enlightening evening of "Coffee, Cake and Conversation on True Islam" to answer questions, dispel ignorance about religion, and unite fellow Americans in divisive times.
Professionally, Zahir is the Internship Director and Head Teacher at the Early Learning Program, Inc. at Central Connecticut State University and a Professional Development Trainer. He is a previous Associate Research Scientist at Yale University School of Medicine where he co-authored numerous papers published in acclaimed scientific periodicals on acute pancreatitis. Zahir holds a Bachelor's of Science Degree in Behavioral Science & Psychology and a Family Development Credential from UConn. He and his wife Syeda Sana Shah were awarded the 2016 Exemplary Early Childhood Parent Couple Leadership Hero Award by CT Parent Power. His father Manzur Mannan and mother Talhaht Mannan were the founding Presidents of the CT Chapter of the Ahmadiyya Muslim Community in the 1980's, and his maternal Grandmother Dr. Kurshid Razzaq's house served as the first Ahmadiyya Mosque for over a decade until the current Mosque was purchased in 2007. Zahir resides in Middletown, with his wife and three children, Khadijah Sadiya Mannan, Elyas Mahir Mannan, and Esa Muhammad Mannan.
Related Speakers View all
---
Faiz Shakir

National Political Director for the American Civil L...

Ted Hakey Jr.

Former U.S. Marine & Activist against Islamophobia

Samra Zafar

Human Rights Activist & Author of "A Good Wife"

Melinda Briana Epler

Founder & CEO of Change Catalyst; Thought Leader on ...

Halima Aden

International Model, Activist & UNICEF Ambassador

Erika Irish Brown

Chief Diversity Officer at Goldman Sachs

Blair Imani

Executive Director of "Equality for HER", Activist &...

Sara Minkara

Founder & CEO of Empowerment Through Integration

Peggy McIntosh, Ph.D.

Feminist and anti-racism activist, the associate dir...

Shah Rukh Khan

Bollywood Star, Social Activist

Salam Al-Marayati

President, Muslim Public Affairs Council

Rashid Shabazz

Chief Marketing & Storytelling Officer at Color Of C...

Mikki Kendall

Writer, Diversity Consultant & Feminist

Thando Hopa

South African Lawyer, Diversity Advocate, Model, Act...

Yai Vargas

Founder & CEO of The Latinista; Career Diversity & I...

Jennifer R. Cohen, PhD

Scientist Turned Diversity, Equity & Inclusion Entre...

Samy Nour Younes

Transgender Activist, Actor & TED Resident

Leah V

Hijabi Social Media Influencer, Muslim Feminist, Bod...

Chella Man

Transgender Model, Activist & Artist

DeShuna Spencer

Entrepreneur, Social Activist, Lung Cancer Advocate,...
More like Chaplain