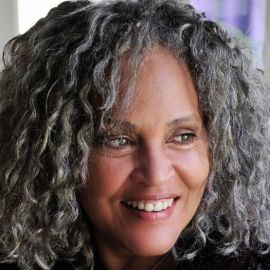 Charlayne Hunter-Gault is an award-winning journalist with more than 40 years in the industry, working in every medium. A trailblazer in her own right, she is the author of three books: In My Place, a memoir of the civil rights movement fashioned around her experiences as the first black woman to attend the University of Georgia; New News Out of Africa: Uncovering the African Renaissance; and her latest book is To the Mountaintop: My Journey Through the Civil Rights Movement, a book for high school, college readers and beyond.
As a global journalist, Hunter-Gault worked at NPR as a special correspondent after spending six years as CNN's Johannesburg Bureau Chief and Correspondent. Before that, she worked as NPR's chief correspondent in Africa. Hunter-Gault joined NPR in 1997 after 20 years with PBS, where she worked as a national correspondent for NewsHour with Jim Lehrer. She began her journalism career as a reporter for The New Yorker and later worked as a local news anchor for WRC-TV in Washington, DC, and as the Harlem bureau chief for The New York Times.
Hunter-Gault has written for numerous publications including Essence, O magazine, The New York Times magazine and Book Review, Africa Report, BBC Focus on Africa, Vogue, The Rotarian, The Black Scholar and many others.
Her numerous honors include two Emmy awards and two Peabody awards – one for her work on Apartheid's People, a NewsHour series about South African life during apartheid, and the other for general coverage of Africa in 1998. Hunter-Gault also was the recipient of the Lifetime Achievement Award from the National Association of Black Journalists, the American Women in Radio and Television award and a 2004 National Association of Black Journalists Award for her CNN series on Zimbabwe. Amnesty International awarded Hunter-Gault for her human rights reporting, especially her PBS Series, Rights and Wrongs, a human rights television magazine. In August 2005, she was inducted in the National Association of Black Journalists Hall of Fame.
Hunter-Gault is a sought-after public speaker, holds more than three dozen honorary degrees, is on the board of The Committee to Protect Journalists, the Carter Center, the Peabody Board and Digital Promise Global. She is vice president of the Clara Elizabeth Jackson Carter Foundation, established by Camille Cosby in honor of her mother. She is married to businessman Ronald T. Gault and has two adult children, Suesan, an artist, and Chuma, an actor. Her latest venture with her husband is producing wine for export to the US from South Africa under the label Passages.
Videos
---
Speech Topics
---
From Closed Doors to Open Roads: A Journalist's Journey
Keynote speaker Charlayne Hunter-Gault, one of the world's most distinguished journalists, describes how she grew up in a segregated society and what enabled her to successfully challenge the decades-old Southern laws that were created to keep her and all black people "in their place." She goes on to trace fulfilling her childhood dream of becoming "Brenda Starr" to being Brenda and beyond and – some years after her successful career in magazines, newspapers, and television – departing to South Africa to chronicle the familiar yet unique end of segregation there. And finally, she describes why she is still out there, attempting to bring "new news" to people the world over, through all the media she has mastered – including print, radio, television and the blogosphere.
From Jim Crow America to Apartheid South Africa & Beyond: An Activist Journalist's Journey
Charlayne Hunter-Gault describes her historic entry into the University of Georgia as its first black woman student and the road she took through Jim Crow South to get there. She chronicles her rise from there to the top of her profession and the stories she covered along the way. This includes South Africa and its "Jim Crow" like system of apartheid, the victory of its people over the system, and where that has taken them and the continent.
Africa Rising: A Continent in Motion
Africa today stands poised to take control of its own destiny--one of the most exciting developments since the end of colonialism. Can Africa heal itself, by itself? What will it take? And what are the consequences of failure? Charlayne Hunter-Gault will talk about the challenges facing Africa and tell why they are America's challenges too.
Africa's Women on the Move
Charlayne Hunter-Gault takes a look at the advances of the last Africans in taking their place in helping to build new societies on the continent.
Revolutions I Have Known and Loved
Books
---
Related Speakers View all
---
Sheryl WuDunn

Pulitzer Prize-Winning Journalist; Co-author of Half...

Archbishop Desmond Tutu

Nobel Laureate & Human Rights Activist

Sonia Nazario

Pulitzer Prize-Winning Author & Journalist; Author o...

Ellis Cose

Award-Winning Journalist & Author

Donna Brazile

Veteran Political Strategist, Bestselling Author, Fo...

Juan Williams

New York Times Best-Selling Author, Fox News Politic...

Patricia J. Williams

Columnist & Law Professor

Anne-Marie Slaughter

Foreign Policy Expert, Author & CEO, New America Fou...

Nicholas Kristof

Pulitzer Prize-Winning New York Times Columnist & Po...

Mariane Pearl

Widow of Journalist Daniel Pearl

Asra Nomani

Journalist & Author, Women's Rights Activist

Roya Hakakian

Iranian Poet, Journalist & Author

Rye Barcott

Co-Founder & CEO of With Honor, Veteran and Author o...

John Zogby

Trendspotter & Leading Pollster

Charles J. Ogletree

Legal Theorist / Mentor / Activist

Katty Kay

Anchor on BBC World News America; Co-Author of "Wome...

Geoffrey Canada

Inner-City Youth & Education Advocate

Kevin Powell

Writer, Humanitarian, President of BK Nation

Wes Moore

CEO of Robin Hood Foundation, Best-Selling Author & ...

Jesse Jackson

Civil Rights Activist & Politician
More like Charlayne