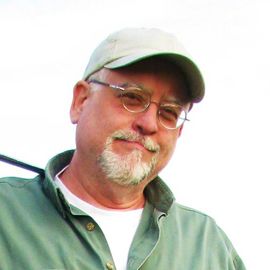 Charles "Chuck" Dixon is an American comic book writer, best known for his work on the Marvel character the Punisher and on the DC characters Batman, Nightwing, and Robin in the 1990s and early 2000s.
Chuck Dixon's earliest comics work was writing Evangeline for Comico Comics in 1984 and then for First Comics. Editor Larry Hama hired him to write back-up stories for Marvel Comics' Savage Sword of Conan. Writing under the name "Charles Dixon", he would eventually take over the lead feature of Conan on a semi-regular basis. He contributed stories to the Larry Hama edited re-boot of Savage Tales highlighted by a number of western stories illustrated by John Severin.
He produced a three-issue adaptation of J. R. R. Tolkien's The Hobbit for Eclipse with artist David Wenzel between 1989 and 1990, and began writing Marc Spector: Moon Knight in June 1989 for editor Carl Potts.
The Punisher Kingdom Gone graphic novel led to him working on the monthly The Punisher War Journal and later other Punisher titles, and brought him to the attention of DC Comics editor Dennis O'Neil, who asked him and Tom Lyle to produce a Robin mini-series featuring the Tim Drake incarnation. The series proved popular enough to spawn two sequels – The Joker's Wild and Cry of the Huntress. This led to both an ongoing monthly series which Dixon wrote for 100 issues before leaving to work with CrossGen Comics, and to Dixon working on Detective Comics from #644 (May 1992)[4] to #738 (Nov. 1999) through the major Batman stories "KnightFall'" and "KnightsEnd" for which he helped create the key character of Bane, "Contagion", "Legacy", "Cataclysm", and "No Man's Land". Dixon and Lyle co-created the Electrocutioner in Detective Comics #644 (May 1992) and Stephanie Brown in Detective Comics #647 (August 1992). Much of his later run was illustrated by Graham Nolan.
He was DC's most prolific Batman writer in the 1990s in addition to writing Detective Comics he pioneered the individual series for Robin, Nightwing (which he wrote for 70 issues, and returned to briefly with 2005's #101) and Batgirl, as well as creating the team and book Birds of Prey.
In March 2002, Dixon turned his attention to CrossGen's output, slowly leaving Robin, Nightwing, Birds of Prey and Batgirl over the next year although he co-wrote with Scott Beatty the origin of Barbara Gordon's Batgirl in 2003's Batgirl: Year One.
In July 2004, Dixon began his return to the DC Universe with Richard Dragon, a revival of the 1970s kung-fu character, which ran for 12 issues. In March of the following year, he returned briefly to Nightwing before shifting his efforts to the Wildstorm imprint, writing the stand-alone Claw the Unconquered; the movie-adaptation of Snakes on a Plane, the movie-spin-off Nightmare on Elm Street, and the Wildstorm Universe title Grifter/Midnighter from May 2007.
It was announced in August 2008 that he would write Dynamite Entertainment's series The Man with No Name based on the western character. He wrote a G.I. Joe series for IDW Publishing. In March 2009 Moonstone Books published a new Airboy one-shot written by Dixon entitled Airboy 1942: The Best of Enemies. In 2011, Dixon says he was offered a chance to do a rewrite on The Expendables 2 screenplay by Sylvester Stallone.
Dixon returned to DC Comics in 2017 to write the Bane: Conquest limited series.
Videos
---
Related Speakers View all
---
Kevin Eastman

Comic Book Artist and Writer

Colleen Coover

Comic Book Artist; Known for LGBT Work

Mark Brooks

Mark Brooks is a comic book artist currently signed ...

Ray Billingsley

Comic Book Artist; Created Comic Strip "Curtis"

Sergio Aragonés

Spanish/Mexican Cartoonist and Writer

Jeffrey Brown

Comic Book Artist & Writer Known for the "Star Wars:...

Brian Crane

Brian Crane is an American cartoonist who created Pi...

Mimi Pond

Illustrator/Cartoonist known for work in The Simpson...

Neal Adams

Comic Book and Commercial Artist

Nicholas Brendon

Actor; Known for "Buffy the Vampire Slayer" and "Cri...

Matt Groening

Cartoonist, Screenwriter and Producer; Known for "Th...

Martin Freeman

English Actor Best Known for the UK's "The Office," ...

Michael Ironside

Actor, Voice Actor, Producer, Film Director and Scre...

Alan Ritchson

Actor, Model & Singer; Best Known for "Smallville" a...

Clark Gregg

Actor Known For "The New Adventures of Old Christine...

Simon Helberg

Actor & Comedian; Best Known for Role of Howard Wolo...

Dan Mintz

Comedian and Voice Actor; Known for Playing Tina Bel...

Paul Reiser

Actor, Writer & Stand-Up Comedian Known for Portrayi...

Joe Pantoliano

Emmy Award-Winning Actor & Film Producer

Joe Quesada

Chief Creative Officer of Marvel; Comic Book Editor,...
More like Charles