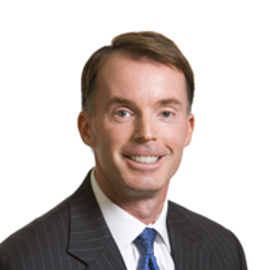 Charles "Cully" Stimson
Chief of Staff and Senior Legal Fellow.
Charles "Cully" Stimson, chief of staff to Heritage Foundation President Edwin J. Feulner, is a widely recognized expert in national security, homeland security and crime control. A senior legal fellow in Heritage's Center for Legal and Judicial Studies since 2007, Stimson has written and lectured on policy issues such as military detention and commissions, intelligence and criminal law (including the Patriot Act and FISA), immigration and the war on drugs. Feulner announced Stimson's appointment as chief of staff in May 2012. In this position, Stimson is a key adviser on public policy matters and activities of the conservative moment as well as manager of Feulner's office staff and Heritage's day-to-day operations. Stimson's many research papers, op-eds and articles include the special report "Adult Time for Adult Crime," Heritage's comprehensive study on the constitutionality of life sentences for teen-age murderers. His work on criminal and immigration law has been cited in briefs before the U.S. Supreme Court. Before joining the think tank in 2007, Stimson served as deputy assistant secretary of defense for detainee affairs. He advised then-Secretary of Defense Donald Rumsfeld and coordinated the Pentagon's global detention policy and operations, including at Guantanamo Bay and in Iraq and Afghanistan. He was chairman of detainee-related panels such as the Defense Senior Leadership Oversight Committee. He represented the United States before the U.N. in Geneva, Switzerland, and briefed and testified before both houses of Congress. An accomplished trial lawyer, Stimson worked as a prosecutor at the local, state and federal levels, including military settings, and as a defense attorney. He served three tours on active duty in the Navy Judge Advocate General's Corp (JAG). He continues to serve with the rank of commander as executive officer of the Reserve Trial Judiciary and as a military trial judge. Stimson's hundreds of media interviews and appearances include Fox News Channel, MSNBC, CNN, BBC and NPR. He has been quoted by most major newspapers, including The Washington Post, Wall Street Journal, New York Times, Los Angeles Times, and London Times. A businessman and educator by training, Stimson is vice chairman of his family's real estate company in Seattle. Before joining the Defense Department in 2001, he was a vice president at a global financial services and insurance brokerage. Stimson holds a law degree from the George Mason University School of Law. He is a graduate of Kenyon College and studied at Harvard and Exeter universities. An avid runner and triathlete, he serves on the board of the U.S. Soccer Foundation. He and his wife reside in Maryland with their four children and a black Labrador Retriever.
Related Speakers View all
---
Ray Walser, Ph.D.

Senior Policy Analyst.

Jack Spencer

Senior Research Fellow, Nuclear Energy Policy.

James Sherk

Senior Policy Analyst in Labor Economics.

Derek Scissors, Ph.D.

Senior Research Fellow.

Brett D. Schaefer

Jay Kingham Fellow in International Regulatory Affairs.

Paul Rosenzweig

Paul Rosenzweig, who helped craft policy and strateg...

James M. Roberts

Research Fellow For Economic Freedom and Growth.

James Phillips

Senior Research Fellow for Middle Eastern Affairs.

David B. Muhlhausen, Ph.D.

Research Fellow in Empirical Policy Analysis.

Derrick Morgan

Vice President, Domestic & Economic Policy.

Robert E. Moffit, Ph.D.

Robert E. Moffit, a seasoned veteran of more than th...

Ambassador Terry Miller

Director, Center for International Trade and Economi...

Ken McIntyre

Marilyn and Fred Guardabassi Fellow in Media and Pub...

Matt A. Mayer

Visiting Fellow.

Walter Lohman

Director, Asian Studies Center

Paul Larkin

Senior Legal Research Fellow

David W. Kreutzer, Ph.D.

Research Fellow in Energy Economics and Climate Change.

Patrick Louis Knudsen

Grover M. Hermann Senior Fellow in Federal Budgetary...

Bruce Klingner

Senior Research Fellow, Northeast Asia.

Daniel H. Johnson, Jr., M.D.

Daniel H. Johnson, Jr., M.D., is a practicing diagno...
More like Charles