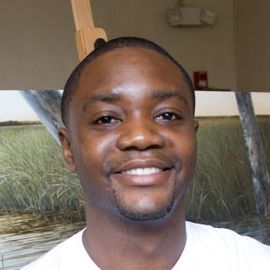 Painter Charles Williams has exhibited across the United States, appeared in international magazines, and won awards from around the globe, but he never forgets how it all started: in a high school art classroom in Georgetown. "When I was in high school, my dad walked into my art teacher's classroom and said, 'What can you do for my son?' Because my dad knew this was what I wanted to do — I wanted to be an artist," Williams says.
That art teacher took Williams under his wing, spending time with him after school to teach him about colors and work on technical skills. After several months, the teacher set Williams up with private lessons with figurative painter Bruce Chandler.
Those lessons grew to cover much more than brushstrokes and linework, however. Chandler wanted Williams to learn how to be a professional artist, not just a skilled painter. "She got me my first job at the Rice Museum [in Georgetown]," Williams says. "She allowed me to go on trips with her to her shows, and she would just talk to me a lot about the business aspect along with the technical aspect."
With her help, Williams began showing and selling his work in coffee shops, bookstores, and galleries when he was in the 10th grade. He had collectors before he was old enough to vote.
The money Williams earned from his art went to his college fund, as he was set on going to the Savannah College of Art and Design. "The whole community knew this," Williams says, noting that the tuition was about $36,000 a year at the time.
Thanks to that fund, plus a portfolio scholarship, Williams made it to SCAD, graduating with a degree in graphic design and advertising and a minor in fine art. Though he worked in advertising for several years, he eventually burned out and went back to painting the land- and waterscapes that he's become known for.
His work is extremely detailed and largely classical in execution, although many pieces slip into a more abstract representation toward the very bottom of the canvas. His night oceanscapes are almost photographic.
And despite his exceptional talent, Williams knows that without that first group of people who believed in him, supported him, and watched him grow as a young artist, he wouldn't be where he is today. "I am a product of what can happen when a community comes together. In Georgetown there wasn't a School of the Arts — there wasn't even anyone black [who was an artist] that I could associate myself with," he says (Williams is African American). "So I got around people that knew. I really had a firsthand experience of how to be an artist, even before I went to college. I think if I didn't have that, I don't know if I would have had the stamina to continue."
Now Williams has found another passion besides painting: giving young, talented artists in middle and high school the same kind of support that he received growing up. To do this, he's formed the C.E. Williams Collaborative, which operates in both Charleston and Georgetown.
With his two partners Shannon Runquist and Christie Weaver, Williams offers biweekly classes all year to students who want to pursue an art career. He also works with local schools to identify strong candidates, as well as local businesses, which can sponsor individual students or assist through the marketing and selling of the student's artwork. The idea is not just to build resumés early on, but also to help Collaborative students raise money for their college funds and develop a collector base — just like Williams did as a high schooler.
"When kids go to college knowing that they have a community behind them, supporting them — when they have their shows at a coffee shop or gallery, and they know 'I have a couple of collectors that are counting on me to do good work, to do my best and push myself,' it builds their confidence. It's a psychological thing. That's what happened for me."
Students in the Charleston area Collaborative classes come twice a month to Redux Contemporary Art Center (where Williams also has a studio) to learn college-level drawing and painting skills as well as the business of being an artist. In addition to the drawings or paintings Williams assigns for homework, each student completes a larger project aimed at building their portfolios and putting them on the path toward hosting their own exhibition.
As for Williams, when he's not teaching he's painting a new body of work for an exhibition scheduled for the spring of 2015 at the Franklin G. Burroughs-Simeon B. Chapin Museum of Art in Myrtle Beach. It's called Swim, and centers on social issues affecting black teens.
The two motifs throughout the exhibition are sneakers — which are a status symbol for many black urban teens — and water, which evokes both the stereotype that black kids don't swim and the reality that for every one white child that drowns, six black children do. "It's definitely more conceptual," Williams says. "I'm trying to infuse more social awareness into my work. I want to voice my concerns, and I feel like the best way to do it is through art."
Swim will be his second solo show since his sold-out exhibition last year at Robert Lange Studios. Some pieces from Swim will hang at SCAD's galleries in 2014, but other than that, he's mainly focusing on teaching right now.
"I'm very humble, and I'm very blessed," he says. "When I look back, there hasn't really been a struggle. So I just feel very compelled to share this info with kids so they can have their chance."
Videos
---