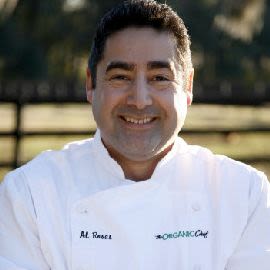 Chef Al Rosas
Known as "The Organic Chef" from Daytime on NBC, Leader and Innovator in Sustainable Family Farming
Chef Al Rosas is a leader and innovator in preserving Artisan foods and sustainable family farming. An expert in locavorism, organic trending and ingredient driven meals, Chef Al is a visionary leader in the booming farm to plate movement. Through food, education, fun and family farming, Chef Al brings the best of ingredients home, back to the family table, helping to sustain real foods for our future generations.
Al Rosas is famous for his expertise in all areas of organics and eco-consciousness. Chef Al's excellence in the preparations of organic and heart healthy food is supreme. The organic master chef's cross ethnic and cutting edge style are well known globally.
Chef Rosas spends his time with his wife and children at his all grass-fed organic beef, bison, wild boar and poultry farm in Florida. He and his wife own a number of Eco-businesses including an organic product procurement and specialty foods operation located in Marion County Florida. Rosas Farms products are now distributed wholesale by SYSCO Foods of Florida but are always available at his farm market. Also on the farm is Chef Al's Eco-Retreat. Hailed by Peter Greenberg, the travel detective, as a "must see" culinary destination, this eco-culinary organic farm and food experience is one of a kind!
As the owner of Rosas Farms and a leader in the field of organics, Chef Al is an award winning staunch environmentalist, nutritionist, radio talk show guest, TV personality, author and global eco-consultant on organic trending and eco-image building. Al Rosas' product consulting and development has led to groundbreaking changes within the organic food industry.
The Rosas Farms model of Pragmatic Organics Living has been adopted by thousands of families nationwide. Chef Al has spent decades in the kitchen at every level, from executive chef to food and beverage director. He combines his innovation and expertise of cross ethnic organic food preparation to make organic cooking, easy, fun and healthy. With deep roots in the organic community and dedication to our Nation's health and our food supply, Al Rosas is truly our nation's finest Organic Chef.
Videos
---
News
---
Featured Chef Al Rosas | Chef2Chef.net
Meet Chef Al Rosas, The Organic Chef. Learn more about this highly distinguished chef, environmentalist, and author. Taste a few of his delicious recipes, ...
Wellness Chefs
Chef Al Rosas has spent a lifetime perfecting his cooking. As a boy growing up in Milwaukee, Wisconsin, he learned to cook standing alongside his beloved grandmother, who was a native of Colombia.,...
Related Speakers View all
---
Aaron Sanchez

Award-Winning Chef, Owner of Johnny Sanchez Restaura...

Michelle Bernstein

Award-winning chef from Miami, Florida, known for he...

Paul Virant

Executive Chef and Owner of Vie, Author & Canning Ex...

Art Smith

Celebrity Chef, Author & Humanitarian; Served as the...

Jamie Oliver

Celebrity Chef, Bestselling Author & TV Personality

Ingrid Hoffmann

Hosts "Simply Delicioso" on Food Network and "Delici...

Stan Frankenthaler

Chef, Cookbook Author & Teacher; Chief Officer of Fo...

Tom Colicchio

Chef & Owner of Crafted Hospitality

Michael Chiarello

Chef, Vintner, TV Host & Sustainable Farmer

Danny Boome

Star of Food Network's "Rescue Chef"

Rick Bayless

Award-Winning Chef, Cookbook Author, & TV Personalit...

John Ash

Chef, Author & Food and Wine Educator

Zakary Pelaccio

Revolutionary chef Zakary Pelaccio is a celebrity ch...

Stephan Pyles

Commonly known as one of the original founding fathe...

Shannon Bennett

Australian celebrity chef Shannon Bennett is a cookb...

Marc Murphy

Marc Murphy is a celebrity chef who specializes in F...

Joe Landa

Celebrity Chef & Fitness Guru Joe Landa is a Chopped...

Jehangir Mehta

Jehangir Mehta is a celebrity chef, restaurateur, te...

Ellis Cooley

When most people stop at a restaurant in an airport,...

Eli Kirshtein

Celebrity Chef Eli Kirshtein is an executive chef, t...
More like Chef