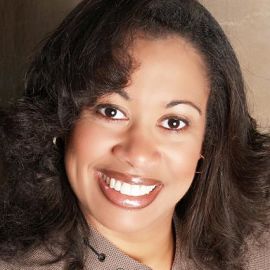 An author, TV guest, and CEO, Cherise Bopape couples personal experiences with research to reel in audiences. A prior IT business analyst for several large companies, she has liaised with C-level executives and understands the importance of teamwork, communication, and self care.
Now, president of her own company (Bopape Enterprises, Inc.), she motivates diverse groups of peoplefrom parents at a Region IV Head Start conference to homeless addicted women at a Georgia-based residential facility.
Striving to level the playing field between genders, the company equips women for success. In doing so, it simultaneously helps employers increase their bottom line. When employees are properly informed and are satisfied in their roles, they take less time off, are more efficient, and require less managerial intervention.
Cherise asserts, Generational success results when women have nurturing familial relationships, set healthy boundaries for their physical safety, are well-informed about the importance of work-life balance, and adapt a lifestyle of faith. A healthy woman is a more productive parent or employee who has the potential to incite perpetual growth.
Cherise is not just about cold, hard facts; she shares unique, entertaining stories that stick. Empathizing with her audience, shes able to encourage healthy relationships, promote restoration, and incite right perspectivesone group at a time.
Videos
---
Books
---
Related Speakers View all
---
Eric Gnezda

Singer, Songwriter, Educator, Author, TV Producer & ...

Michael McCain

Awakening Millions To Their Potential -Author, Coach...

K.M. Johnson

Speaker, Life Coach, and Author of "Knowing The Stru...

Preston Keith Fox

THE ANTI-MOTIVATIONAL-MOTIVATIONAL SPEAKER

Super Star

Sought after Motivational Speaker, Recording Artist,...

Katie Schmatz

Ohh the Possibilities...

Dr. Brenetia Adams-Robinson

Transformational Trainer, Life Coach, Keynote Speake...

Mak Man

Dynamic Motivational Speaker and Published Author . ...

Tina Marie Jones

Connecting with the audience through the style of a ...

Shawn Rene Zimmerman

Professional Fitness Model and Celebrity Trainer

Jean Bailey Robor

Jean Bailey Robor, award-winning author and inspirat...

Michael Cooley

Public Speaker

Estuardo Armas

Dream Trainer and Life Coach

Barry Reitman

Fast-paced, fun-filled memory improvement.

Andy Mouncey

Ultra-distance Athlete, Author, Goal-Setting Expert

Devin Hughes

Devin C. Hughes-The Chief Inspiration Officer

Tonisha Pinckney

Empowerment Beyond Victimization - Author of I AM MO...

Lori La Bey

Driving Change How Caregiving is Perceived, Received...

Hypnotist The Incredible BORIS

Award-winning Motivational Hypnotist and Keynote Spe...

Grant D. Fairley

Inspirational Speaker and Teacher, Executive Coach &...
More like Cherise