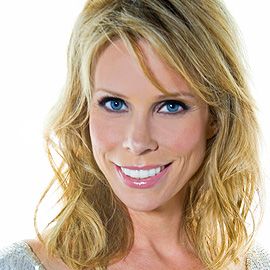 Cheryl Hines
Actress Known for HBO's "Curb Your Enthusiasm;" Heart Disease & Cerebral Palsy Spokeswoman
Actress Cheryl Hines found television stardom while playing the tolerant and sarcastic wife to Larry David's miserable and annoying self-parody on HBO's hit comedy, Curb Your Enthusiasm. Hines more than held her own with David, proving right away that she had a sharp and unique talent for comedy. She earned a Golden Globe nomination for Best Supporting Actress and two Emmy Award nominations for Outstanding Supporting Actress in a Comedy Series.
Cheryl began her acting career by doing improv at the Groundlings Theater, where one of her first teachers was Lisa Kudrow. She also learned to write comedy sketches, which served her well when working on Curb Your Enthusiasm, in which the plot outlines are generally and loosely drawn and the individual actors improvise to create the dialogue.
She also broadened her experience in television to include producing and voice over. She was the executive producer on the critically acclaimed improvised and award-winning comedy series Campus Ladies for the Oxygen Channel and the Starz Network's first original comedy series Hollywood Residential. Cheryl was also handpicked by Jeffrey Katzenberg as the lead voice in DreamWorks Television's primetime animated series, Father of the Pride, an innovative comedy that aired on NBC. She is currently starring in ABC's hit Suburgatory. Hines describes the show as "a loving satire, sending up the strange subculture of tanned-to-the-max denizens while never overlooking the real people who live there or why most of the country calls the suburbs home."
In 2009 she made her directorial debut at the Tribeca Film Festival with Serious Moonlight, starring Meg Ryan.
She's appeared in numerous films including The Grand, Waitress, RV, Keeping up with the Steins, Herbie: Fully Loaded, Bart Got A Room (opposite William H. Macy) and The Ugly Truth, with Katherine Heigl and Gerard Butler. Cheryl will also appear as fairy godparent Wanda, opposite Jason Alexander, in A Fairly Odd Movie, a live-action version of the popular Nickleodeon animated series The Fairly OddParents.
Hines is also an active and passionate advocate for education and community involvement. Cheryl Hines is making it her mission to fight heart disease with the Go Red for Women campaign as their spokeswoman. "Heart disease is no laughing matter. After my father suffered a massive heart attack, I realized just how serious heart disease can be," says Hines.
She served as executive producer for the NBC reality series School Pride, which followed the renovation of a different school each week, and she serves on the Board of Trustees of United Cerebral Palsy.
Videos
---
Speech Topics
---
School Pride: It Takes a Village
When her own daughter started school, Hines began thinking about other parents and children, many of whom went to schools where even the most basic of accommodations were lacking. The lights didnt work, the toilets don't flush, and the teachers didnt have even the most essential of resources.
Hines began volunteering at a local school in Compton, CA, at first offering to donate some some soccer balls and jump ropes. When invited by the principal to take a look around, Hines was stunned. The school hadn't been painted in 28 years. The playground couldn't be used because the sand was infested with bugs.
"I know that it's not because parents don't care," she says. Most of the time the resources aren't there.
Hines spearheaded an effort to renovate the school, and the results amazed her. Attendance is up and classes and kids are actively engaged. It feels like someone cares, said one boy to Hines, and she was hooked. The success of the Compton school project sprouted the idea for School Pride, the NBC series that Hines executive produces.
Hines does not fancy herself an education policy expert. She is simply someone who saw a need and wanted to help. She acknowledges that the issue of education reform can be overwhelming when one looks at the big picture, but she is convinced that even the most basic of improvements is a vital first step. When you show kids you care, they do better, she says. She saw firsthand the difference one can make in a local school and community and now she shares with audiences nationwide the steps they can take to connect in their own communities.
Improv in Your Daily Life
Cheryl Hines improvisational comedy skills served her well in her acting career, earning her national acclaim on such shows as Curb Your Enthusiasm. Improv teaches verbal and non-verbal communication skills, risk taking, teamwork and leadership.
Hines comes from a family of teachers, and knows firsthand the benefits of improv skills and offers skills and pointers that increase confidence and interpersonal skills in the classroom and the workplace. Plus, its fun!
Related Speakers View all
---
Henry Winkler

Actor, Producer, Director & Best-Selling Author; Bes...

Phylicia Rashad

Actress; Dean of Fine Arts at Howard University; Adv...

LeVar Burton

Literacy Advocate & Actor Known for "Roots," " Star ...

Ice-T

Rapper, Record Producer, Actor Known for "Law & Orde...

Montel Williams

Emmy Award-Winning Talk Show Host Best Known For "Th...

Holly Robinson Peete

TV Personality & Autism Advocate

Cynthia Nixon

Actress Known for her Role as Miranda Hobbes on HBO'...

Richard Dreyfuss

Academy Award-Winning Actor

Tony Danza

Actor, Producer & Author

Andie MacDowell

Actress Known for "Four Weddings & a Funeral;" Heart...

Tony Plana

Actor & Director Known for "Ugly Betty;" Supporter o...

Shiza Shahid

Entrepreneur, Technologist, Investor, Impact Leader ...

Dr. Jill Biden

First Lady of the United States

Allison Janney

Academy Award-Winning Actress

Jurnee Smollett

Actress & Singer

Nia Vardalos

Oscar-Nominated Actress, Screenwriter & Producer Kno...

Olivia Wilde

Actress, Screenwriter, Director, Producer & Activist

Janine Turner

Actress, Author & Radio Host; Columnist for the Wash...

Victoria Rowell

Classically Trained Dancer, Actress on "The Cosby Sh...

Hill Harper

Actor, Author & Philanthropist; Best Known For "CSI:...
More like Cheryl