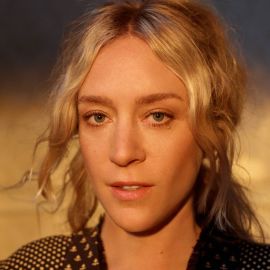 Chloë Stevens Sevigny is an American actress, director, model, and fashion designer best known for her roles in independent films. Her mother is Polish-American, and her father was of French-Canadian heritage, born in Vermont. She was raised in a strict Roman Catholic household in Darien, Connecticut.
Cast initially in a small role in for "Kids," Sevigny landed the part of Jennie just prior to filming. Sevigny emerged from her "Kids" experience with a bright future in acting. She followed up the next year with a role in "Trees Lounge."
In 1999, Sevigny played a pregnant teen in "Julien Donkey-Boy." Most notable was her turn as Lana, the love interest of a captivating man hiding his biological femaleness in Kimberly Peirce's remarkable feature "Boys Don't Cry." Her portrayal earned her a richly deserved Academy Award nomination as Best Supporting Actress.
The following year would see the actress take on a role in Mary Harron's controversy-plagued "American Psycho." That same year, Sevigny made her television acting debut in the "1972" segment of "If These Walls Could Talk 2," a lesbian-themed anthology drama in which she played a boyish-dressing woman who falls in love with a coed.
After a detour appearing in low-profile films, Sevigny reestablished her art-house credentials with a role in director Lars von Trier's "Dogville." She next delivered a well-executed performance in the critical favorite "Shattered Glass." Sevigny also got a massive dose of media attention for her appearance in the art film, "The Brown Bunny."
Adopting a more button-downed role, Sevigny was cast in the tragic portion of writer-director Woody Allen's dual-structured "Melinda and Melinda." She continued appearing in low-budget indies, including small roles in "Manderlay," Lars Von Trier's follow-up to "Dogville," and "Broken Flowers." Sevigny then made the rare jump to television, appearing as the "other woman" in the dark comic tale of love and obsession, "Mrs. Harris." Landing her first regular-series role, she starred as one of three wives married to a hardware-store owner on "Big Love," the cable network's much-hyped and controversial series centered on Mormon polygamy.
Returning to features, Sevigny had a minor part in David Fincher's "Zodiac," a tense but overlong thriller that depicted the unsolved Zodiac killings in the Bay Area during the late 1960s. Meanwhile, Sevigny continued to shine as Nicki, the second wife in the Hendrickson clan, on "Big Love," which earned kudos and became one of HBO's numerous success stories. Once "Big Love" ended its acclaimed run in 2011, Sevigny moved on by starring in a considerably offbeat part as a Irish transsexual assassin on the British thriller series "Hit & Miss."
She also was featured in the second and fifth seasons of "American Horror Story," had a small role in the porn-star biopic "Lovelace" and guest-starred on the quirky sketch-comedy show "Portlandia."
In 2016, she made her directorial debut with the short film "Kitty," which she also wrote. She wrote and directed another short film, Carmen, which she released in 2017.
She recently starred in "Lizzie" in 2018 and "The Dead Don't Die" in 2019.
Related Speakers View all
---
Steve Buscemi

Actor; Known for "Boardwalk Empire," "Fargo" and "Re...

Jim Jarmusch

Director & Writer; Known for "Stranger Than Paradise...

Celine Sciamma

Award-Winning French Filmmaker Known for "Girlhood" ...

Bryce Dallas Howard

Film Actress, Writer and Director; Stars in "The Hel...

Rosie Perez

Actress, Choreographer, Activist & Former Co-Host of...

Mati Diop

French Actress & Director Known for "Atlantics"

Kaitlyn Dever

Actress Known for "Booksmart" & Netflix's "Unbelieva...

Olivia Colman

Academy Award-Winning Actress; Known for "The Night ...

Marsai Martin

Actress & Producer; Known for "Black-ish" & "Little"

Claire Denis

Filmmaker; Known for "Beau Travail" and "White Mater...

Armie Hammer

Actor; Best Known for His Role in "The Social Network"

Kathy Bates

Academy Award-Winning Actress; Cancer Survivor & Cha...

Lady Gaga

Award-Winning Pop Singer-Songwriter

Forest Whitaker

Oscar Award-Winning Actor, Producer & Director Known...

Marlo Thomas

Emmy Award-Winning Actress; Social Activist & Presid...

Angela Bassett

Award-Winning Actress & Co-Founder of Bassett/Vance ...

Pippa Bianco

Director & Screenwriter; Known for "Share"

Abel Ferrara

Director; Known for "Bad Lieutenant" and "King of Ne...

Jessica Hausner

Director & Screenwriter; Known for "Lourdes" and "Am...

Beanie Feldstein

Actress, Known for "Booksmart," "Neighbors 2: Sorori...
More like Chloë