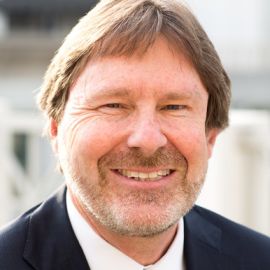 Chris Jennings
Founder & President at Jennings Policy Strategies; Senior Fellow at the Bipartisan Policy Center
Chris Jennings is an over three decades-long health policy veteran of the White House, the Congress and the private sector. In 2014, he departed from his second tour of duty in the White House where he served President Obama as Deputy Assistant to the President for Health Policy and Coordinator of Health Reform. He served in a similar capacity in the Clinton White House for nearly eight years.
From his positions in the executive branch, Mr. Jennings has helped implement the Affordable Care Act's access and delivery reform provisions (for President Obama) as well as played leadership roles in the development, passage and implementation of bipartisan health reforms, such as the Children's Health Insurance Program, the Health Insurance Portability and Accountability Act (HIPAA), the Prescription Drug User Fee Act (PDUFA) of 1997 and major Medicare reforms in the Balanced Budget Act (BBA) of 1997 (for President Clinton).
In his decade of service in the U.S. Senate, he served as the Deputy Director of the Special Committee on Aging for three Senators (Glenn, Pryor, and Melcher) and led major reform efforts in the areas of long-term care, prescription drug coverage/cost containment, and rural health care. In this capacity, he also served in a major role for the U.S. Bipartisan Commission on Comprehensive Health Care (also known as the "Pepper Commission").
Outside of government service, Mr. Jennings has been a senior health policy advisor to seven Presidential campaigns, the 2008 and 2016 Democratic Platform Drafting Committees, and multiple gubernatorial and Senate candidates. Recognizing his pragmatic nature and experience with key Democratic policymakers, the Bipartisan Policy Center (BPC) sought Chris to serve as a senior advisor on a number of health reform projects, including reports and recommendations on access, delivery reforms, cost containment, and long-term care.
Jennings Policy Strategies (JPS) is a nationally respected health care consulting firm committed to assisting foundations, purchasers, health systems and other aligned stakeholders develop policies to ensure higher quality, more affordable and sustainable health care. He has consistently worked to develop administrative, legislative, and private sector policies/interventions to ensure better stewardship of and a greater return on investment on the nation's $4 trillion investment in health care. In addition to his consulting work and his collaborations with think tanks Mr. Jennings is a frequent contributor on health reform issues to publications such as the New England Journal of Medicine, Health Affairs, and the Atlantic.
Videos
---
Speech Topics
---
The Intersection of Healthcare Politics and Policy.
Chris Jennings is a health and policy expert. With the rare experience of having served in the White House for eight years, he contextualizes the issue of healthcare for organizations, explains where they stand in the debate compared to other players, and outlines the implications for various stakeholders. Self-described as a "radical incrementalist," he navigates the difficult world of Washington and is an advocate of taking what you can get and making it work. He believes that the ultimate oxymoron is that people want to comprehensively reform the healthcare system – without disrupting it at all. He looks at the compromises necessary to "reform the reform" and achieve an audiences' aims and shares the information they need to know in order to stay ahead of the curve. From businesses and consumers to providers and purchasers, he knows the ins and outs of the most interesting domestic policy issue of our time. Serving as the bridge between the policy world and the political one, he understands the history and context of healthcare and shares eye-opening insights on the coming issues, complications, implications, and politics of the latest reform.
Related Speakers View all
---
Ralph Nader

Former Presidential Candidate for the Green Party, C...

Tammy Bruce

Political Commentator, Talk Radio Show Host & Author

Jason Grumet

Founder & President of the Bipartisan Policy Center

Jonathan Metzl

Professor of Sociology & Psychiatry, Director of the...

Patrick Kennedy

Former Congressman (D-RI), Founder of The Kennedy Fo...

Dr. Anthony Fauci

Director, National Institute of Allergy and Infectio...

Michael Smerconish

Independent Political Analyst; Host of "The Michael ...

Dr. Paul Wolpe

Director of the Emory Center for Ethics

Dr. Elaina George

Otolaryngologist, Expert on the Business of Healthca...

David Cutler

Harvard Professor of Applied Economics & Author

Tim Porter-O'Grady

Expert in Healthcare Fields of Governance Models, Cl...

Ian Morrison

Healthcare Futurist and Author

Mary Kate Cary

Former Speechwriter for President George H.W. Bush, ...

Jon White, M.D.

Acting National Coordinator for Health Information T...

John Avlon and Margaret Hoover

Married Political Commentators with Differing Politi...

Gov. Mike Leavitt

Founder & Chairman of Leavitt Partners, Former Gover...

Marty Makary, M.D.

Healthcare Futurist, Johns Hopkins Surgeon & Profess...

Scott W. Atlas

Medical Adviser, President Trump's Coronavirus Task ...

Kyle Loh

Researcher, Harvard Stem Cell Institute

Paul Nurse

President Emeritus, Rockefeller University; Nobel La...
More like Chris