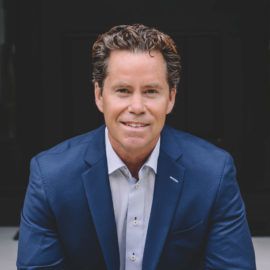 Chris Johnson is the world expert in unlocking human potential. As Founder /CEO of On Target Living, Johnson is a highly respected expert and accomplished executive, who has spent over 30 years researching and building optimal health and performance programs for individuals and corporations. He is the architect of the Food Target® that shifts from counting calories to concentrating on the nutrient values of foods that guide healthy choices.
Johnson likes to say he was 'raised by wolves'. Growing up struggling with terrible skin and chronic health issues, he had no idea how his lifestyle affected his health. The doctors couldn't help him, and despite all the medications they prescribed, his health did not improve. By his mid-20's, deeply frustrated and feeling hopeless, Johnson set out to heal himself. On his quest, he learned how food affects the body, the importance of sleep, and why people need to move. These discoveries transformed his life. Conditions which plagued him for years disappeared, and his energy and attitude reached new heights. Amazed at how good he felt, Johnson knew he'd found his calling, and needed to share his discoveries.
Today, Johnson works with organizations to transform their performance from the inside out. He applies the principles of REST I EAT I MOVE to educate, engage and inspire teams around the world. Johnson graduated from Michigan State University with a Master's Degree in Exercise Physiology and a received his Bachelor's Degree in Business and Economics from Western Michigan University. He holds certifications from The American College of Sports Medicine, The National Academy of Sports Medicine and the American Council on Exercise and Certified Natural Health Professional. Johnson earned and maintains a reputation of providing groundbreaking lifestyle modification strategies with integrity, humor and passion.
Videos
---
Speech Topics
---
Life on Target
LIFE can be interpreted as: growth, existence, fate, vitality and an opportunity! LIFE On Target is just that - an opportunity to incorporate balance, energy and vitality into your routine.
The media is pulling us in different directions regarding healthy living; it is confusing and difficult to break through the clutter. New diets, flashy exercise programs, books, medications and technology are all vying for our attention. Is it possible to build habits and create a foundation that will last forever? What if there was a simple way to plan for the future?
Chris Johnson, author and expert on health and performance, is the leading authority on small steps to healthy living. His one step at a time philosophy helps create hope and a belief that anyone and everyone can achieve it. His mission is to inspire people to take action and to discover their WHY.
LIFE On Target is more than just a presentation: LIFE On Target touches all five senses and empowers you to unlock the LIFE you've always dreamed.
Moving the Dial
We have to talk about the Elephant in the Room: Rising Health Care Costs! Employers invest billions of dollars on health and wellness solutions looking to trim cost and risk, yet health and performance outcomes are not improving significantly. We have unlimited access to health education, cutting edge hospital systems, highly trained health professionals and innovative technology, but we still are not Moving the Dial.
What if the problem isn't health care policy, the environment, lack of education or incentives in the workplace? What if the problem is our mindset on health and performance in the workplace? What if our mindset on health and performance was similar to that of leadership, management, marketing, and sales?
The ability to Move the Dial requires a change in human behavior. Chris Johnson, national speaker and best selling author, has been moving the dial over the last 30 years on employee wellbeing. In this presentation, Chris shares his thought leadership on how to make employee health and performance a viable business solution for the future.
Recognize the missing link between employee health and performance
Understand the 3-pillars to employee well-being
Help Move the Dial on health and performance in the workplace
Create a competitive advantage in your organization
We cannot fix the health care problem by simply making our health care system more efficient. The cost of treating a disease is the 'elephant in the room" that must be discussed. Imagine if everyone looked at health care from a new perspective? Having more healthy people should be our goal, not more health care options!
Decoding Your Health
The first step in making any change is self-awareness. For many, the thought of learning how to listen to your body is completely new. We either don't stop and listen to the warning signs, or don't know what questions to ask.
Overworked, trouble sleeping, overweight, chronic pain, undernourished, digestive issues,high blood pressure, low energy, feeling stressed, acid reflux, Type-2 Diabetes or taking more medications than you like? In our fast paced lives it is easy to get out of balance.
This session will help the audience learn HOW to:
Recognize stress and how to manage it
Get a better night's sleep
Build a strong immune system
Balance cholesterol
Build a sustainable exercise and nutritional program
Take control of YOUR health
In this presentation, Chris shares "real life stories" that captivate the audience and teach them the recognizable clues the body is giving. He offers easy-to-implement solutions needed to achieve greater health and performance.
Get Your Move On
If exercise came in a pill it would be the most prescribed medicine in the world. Daily movement or exercise is the real fountain of youth, keeping us healthy looking from the inside out.
There are endless benefits to exercise: - Relieves stress - Keeps our minds happy and healthy - Improves digestion and regulates bowel movements - Aids in weight loss - Balances hormones - Increases confidence and improves performance
This MOVE session will help you to understand just how important exercise can be for life, work, and overall well-being. Just as you should focus on the quality of food you are eating versus the number of calories— the same is true of your exercise plan. The key is to focus on quality versus quantity of exercise. Forget about hopping on the elliptical for hours on end or feeling like you have to work out for two hours a day to see results. Make the limited time you have count.
In this high energy MOVE session you will learn the fundamentals needed to achieve your goal and see maximum results. Want to build more strength? Improve energy? Lose weight? And be more metabolically active? Want a routine that is fun, quick, and improves body alignment, posture, core, flexibility, balance, strength and overall fitness? If you are new to exercise or a long-time exerciser who wants to learn more than this MOVE session is for you.
Remember that motion creates positive emotion.
Power of Feeling Your Best
Related Speakers View all
---
Matt Johnson

On Target Living, President & Human Capacity Expert

Jenny Evans

Stress Resiliency Expert, Speaker & Author

Dr. Kristen Lee

Award-Winning Behavioral Science Expert & Clinician

Shawn Achor

Harvard Professor, Researcher & Positive Psychology ...

Andy Core

Award-Winning Thought Leader on Increasing Employee ...

Irit Wald

Co-Founder & CEO at ThinkUp

Dennis Kelly

Author, Peak Performance Master Trainer, Personal Gr...

Kayla Itsines

Personal Trainer, Author, Entrepreneur, Creator of B...

Michelle Gielan

National CBS News Anchor Turned Positive Psychology ...

Deepak Chopra

Co-Founder of The Chopra Center for Wellbeing

Richard Simmons

Fitness Instructor, Actor, Video Producer Known for ...

Shannon Miller

Olympic Gold Medalist, Health Advocate & Cancer Surv...

Rocco DiSpirito

Celebrity Chef, Cookbook Author, & TV Personality

Natalie Jill

Sports Nutritionist, Fitness Trainer, Host of "Level...

Marco Borges

Exercise Physiologist, Founder of 22 Days Nutrition,...

David Posen

Best-selling Author, Speaker & Physician; Stress Mas...

Tim Ferriss

Angel Investor & Author, "The 4-Hour Workweek"

Anthony Rao

Nationally Recognized Child Psychologist & Author of...

David Meinz

Health Promotion Expert Who Helps People Enhance The...

Dr. Holly G. Atkinson

Award-Winning Medical Journalist
More like Chris