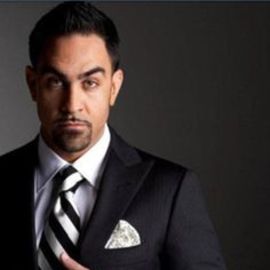 Chris Nunez is the owner of the most famous tattoo shop in the world and he is the star of TLC'S hit series, MIAMI INK.  Currently in production, MIAMI INK is cable television's 2nd highest rated show in it's time slot.  The show will air its 56th episode by January 26, 2007.  It is unmistakably a worldwide television phenomenon.
Each week, MIAMI INK takes its audience into the world of Miami Beach's busiest tattoo parlor, where the artists and their clients are as colorful as the ink from which their tattoos are born.   As 1 in 7 Americans has at least one tattoo, it is no surprise that MIAMI INK is popular with audiences of all ages, ethnicities, genders and economic backgrounds.  Statistically, the ratio of male to female viewers is nearly equal.  The show's mass appeal partially explains its enormous success.  Nunez's strong personality and undeniable talent accounts for much of that success.
Nunez, of Cuban decent, was born and raised in Miami, Florida.  He began his career as a tattoo artist at the young age of 18 and has worked toward perfecting his talents ever since.  When he was 21, Nunez went to Brazil for what he planned as a short visit.  Instead, he stayed there for the next 4 years, where he operated his own tattoo parlor.  He then traveled to Europe, where he explored several countries and cultures for the next 3 years, working as a tattoo artist the entire time.   These experiences helped Nunez develop artistically and emotionally, for which his family, friends and clients are grateful.
Nunez then felt it was time to return to the United States.  Before returning to Miami, he traveled briefly throughout the country, visiting tattoo parlors everywhere he went.   Eventually, his travels led him back to his hometown of Miami.  There, he hooked up with his longtime friend (and MIAMI INK co-star) Ami.  The two of them collaborated to open up a tattoo parlor, which they named MIAMI INK.  One day, a television producer came to the shop for some new 'body art'.   Immediately recognizing the potential for human interest, he worked with Nunez and Ami to shoot a television pilot.  The rest is history.
Today, Nunez is busier than ever.  So long as production is not filming new episodes, the artists still invite the public to patronize the shop.  Many people come to the shop with only Nunez in mind to do their tattoo.  Nunez spends whatever other free time he has developing ideas for a new bar/lounge in which he is an investor.  This social venue plays a big role in future episodes of MIAMI INK.  Moreover, it will give Nunez the opportunity to show off his fondness for  Miami's nightlife and its beautiful women  - two loves producers illuminated to in earlier episodes of MIAMI INK.   One thing is for certain – Chris Nunez's past, present and future endeavors will undoubtedly leave an indelible mark in the world of entertainment.
Related Speakers View all
---
Dave Navarro

Musician & Host of "Ink Master"; Best Known as a mem...

Josh Wolf

Comedian, Actor, Writer; Round Table Guest and Write...

Nikko Hurtado

Tattoo Artist Who Specializes in Colored Portraiture

Bob Tyrrell

Famed Celebrity Tattoo Artist and TV Personality

Darren Brass

Tattoo Artist and TV Personality Featured in "Miami ...

Hannah Aitchison

Tattoo Artist Who Appeared on TLC's "LA Ink" and Thr...

Andi Dorfman

Best-Selling Author, Former Star of ABC's "The Bache...

Lisa Hochstein

Housewives of Miami

Sadie Robertson

Motivational Speaker, Bestselling Author, Owner of C...

Jax Taylor

Actor & Model; Formerly Starred on Bravo's Hit Reali...

Sean Lowe

Businessman, Author & Former Reality TV Personality ...

Kyle Richards

Star of "The Real Housewives of Beverly Hills"

Corey Miller

One of the Core Tattoo Artists on the Reality Televi...

Kat Von D

Tattoo Artist, TV Personality, Entrepreneur

Fredrik Eklund

New York's Top Luxury Broker & Star of "Million Doll...

Juan Pablo Galavis

ABC's First Latin Bachelor and Former Professional S...

Paul Hollywood

Celebrity Chef & Television Host

Chip & Joanna Gaines

Owners of Magnolia Homes & Personalities on HGTV's "...

Gino Panaro

Host of DIY Network's "King of Dirt"; Licensed Contr...

Josh Flagg

Author, Real Estate Broker, Philanthropist and Star ...
More like Chris