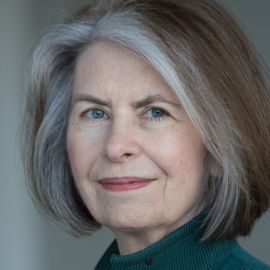 Christine Ervin
Former US Assistant Secretary of Energy; National Leader on Green Buildings & Clean Energy
Christine Ervin has led innovative collaborations to accelerate green markets for more than 25 years. As the first President and CEO of the U.S. Green Buildings Council, she led its evolution from a start-up to become the highly influential coalition of industry leaders transforming the way buildings are designed, built and operated. Over her tenure, the Council launched and cemented the LEED rating system as the leading certification standard for green buildings. She also played a major role in launching the international Greenbuild conference and trade show which routinely attracts tens of thousands of attendees. Ervin received USGBC's leadership award in 2004 and 2014.
As Assistant Secretary of Energy for President Clinton, Ervin directed $1 billion in annual investments for clean technologies. The office portfolio included the National Renewable Energy Laboratory at Golden, Colorado, and programs at several other national laboratories. During her tenure, she oversaw dozens of programs comprising the President's Climate Change Action Plan. Other key initiatives included private sector partnerships to accelerate clean energy investments; a research roadmap on high-performance buildings; research on worker and health productivity; streamlining national appliance standards; Million Solar Roofs; and national centers for photovoltaic research and sustainable communities.
At the state level, she directed the highly respected Oregon Department of Energy and was the Assistant Director for Missouri's statewide office of policy, planning, and budgeting. Previously, she conducted research at the Conservation Foundation/World Wildlife Fund focusing on energy policy, life cycle assessments and pollution prevention.
Ervin has served on numerous fiduciary and advisory boards for venture capital firms; start-up companies including WattzOn/Glynt.ai; national advocacy efforts; and sustainability certification programs. She was a founding member of the Sustainability Accounting Standards Council based on her long-standing interest in embedding sustainability factors into financial reporting systems. Ervin is also passionate about boosting the role of women in leadership positions through such efforts as serving as Ambassador for the national C3E initiative (Clean Energy, Education, and Empowerment program).
Her consulting practice is based in Portland, Oregon.
Speech Topics
---
More than a Moonshot: Our Legacy
Scientists recently gave us a 12-year window to cut emissions 50 percent by 2030 in order to reduce severe climate disruption. This stark outlook has prompted proposals such as the "Green New Deal," spurring fresh conversations about our future and how emerging technologies and trends factor in. Christine paints the landscape on a large canvas — weaving together a reality check on current status, fact-checking different perspectives and show-casing high-impact strategies for winning this Earthshot.
Greening our Built World
Why is the green building market such a hotbed of innovation around the world? How does it translate the theory of sustainability into tangible results that affect people where they live and work? Christine's fast-paced profile covers the latest trends, drivers, and inspiring case studies that demonstrate why this market is so crucial for health, prosperity and reducing risks from a disruptive climate.
Energy 3.0
Today's clean energy markets are growing faster than even enthusiasts predicted years ago — and much faster than mainstream analysts continue to project. Christine captures the fast trajectory of new technologies, obstacles that remain and what lies ahead including their role in U.S. competitiveness, jobs and decarbonizing our economy. She also focuses on the "soft" side of hard technologies that can make all the difference between a laboratory curiosity and a product that sweeps the market.
A New Design Manifesto: Designing for Speed, Scale and Synergy
Today's environmental and social challenges are accelerating, scaling and interconnecting with each other. Climate change is the prime example affecting everything from economic damages to national security. Most policy responses haven't kept up with these new forces. Christine makes the case for redesigning strategies for speed, scale and systemic impacts drawing inspiration from leadership in public and private sectors.