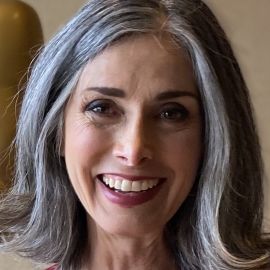 Christine Leunens
International Bestselling Novelist & Author of "Caging Skies"
Christine Leunens is born in Hartford, Connecticut in 1964. In 2005 she received a Master of Liberal Arts in English and American Literature and Language from Harvard University and was awarded the Thomas Small Prize for Academic Achievement and Character and the Dean's Prize for Outstanding ALM Thesis in the Humanities. She received a PhD in Creative Writing from Victoria University of Wellington in 2012.
As a teenager she moved to Paris and became an international top model, the face of Givenchy, Paco Rabanne, Nina Ricci, Pierre Balmain and Sonia Rykiel, and posed for magazines including Vogue, Marie-Claire, and Elle. Her TV ads include Mercedes Benz and Suzuki. During the years travelling around Europe, Asia and Africa, Christine combined modelling, studying and writing.
Christine Leunens' novels have been published in over twenty languages. With publications in Europe, Russia, Asia, South America, and throughout the English-speaking world, Christine Leunens' books have reached an incredibly diverse audience. National and international media have praised the quality, originality and power of her writing. From 1999 when Primordial Soup was described by The Sunday Times as 'a remarkable debut novel', to 2008 when the French translation of Caging Skies was nominated for the Prix Médicis, to 2013 when the NZ Herald listed A Can of Sunshine as 'Best Books of the Year 2013' in English worldwide, to 2020 that saw Caging Skies become an international bestseller.
In 2019, Filmmaker Taika Waititi's Jojo Rabbit, based on Caging Skies, became an international sensation. The themes of the novel, its characters, story and the level of research behind it, constitutes the backbone of the film adaptation aimed at drawing a global audience to the consequences of hatred and racism, a very timely topic. Two Golden Globe nominations, six BAFTA nominations and winning a BAFTA Award for Best Adapted Screenplay, six nominations for the 2020 Academy Awards and winning the Oscar for Best Adapted Screenplay, are a testimony of Leunens' contribution to a success story of global impact. At the 2020 Oscar ceremony, the book was acknowledged to the live audience and millions of TV viewers. Christine was also nominated for the 2020 USC Libraries Scripter Award that 'honours both the author and the screenwriter'; she received alongside Waititi an AFI Award for their 'contribution to America's Cultural Legacy' and in 2020 the script received the Humanitas Prize for its story that 'promotes dignity, meaning and freedom'. Her recorded speech for the International Holocaust Remembrance Day 2020 at Mt Eden War Memorial Hall reflected these values. During the pandemic Leunens has continued to deliver talks online, including for the Kolkata Literary Festival, the Limmud Festival, and delivering a video speech for Harvard University Extension School's Commencement Ceremony 2020.
Videos
---
Speech Topics
---
Writing and Inspiration; Facts Versus Fiction of Life; Film Adaptation of Novel; From International Top Model to International Bestselling Novelist; Relationships; To Look Or To Be; A Precious Commodity: Time; The Rivers of Life; Happiness One Smile Away