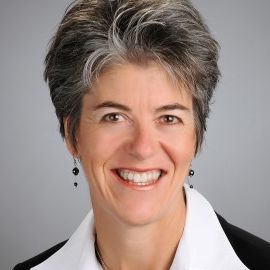 Dr. Sinsky is the Vice President of Professional Satisfaction at the American Medical Association. A board certified internist, she also practices at Medical Associates Clinic and Health Plans in Dubuque, Iowa.
Dr. Sinsky is a Director of the American Board of Internal Medicine and a member of the Board of Trustees of the ABIM Foundation, serving as the Vice Chair. She is a fellow of the American College of Physicians (ACP) and is the recipient of the Iowa ACP 2013 Laureate Award.
Dr. Sinsky has worked to elevate national awareness of health professional well-being as an important driver of health system performance. From 2011 to 2012 she led "In Search of Joy in Practice: A Report of 23 High-Functioning Primary Care Practices," a project of the ABIM Foundation. She also co-authored the 2013 paper "From Triple to Quadruple Aim: Care of the Patient Requires Care of the Provider." At the AMA she leads the development of initiatives to improve clinician well-being and reduce burnout. Dr. Sinsky is a co-author of the Institute of Medicine's 2011 report, "Health IT and Patient Safety: Building Safer Systems for Better Care," and has twice provided testimony to the Office of the National Coordinator for Health Information Technology regarding the role of electronic health records in care coordination and usability. She also serves on the National Advisory Group on Health Information Technology in England.
A frequent invited lecturer on practice innovation, redesign and physician satisfaction, Dr. Sinsky has presented widely, both nationally and internationally.
Dr. Sinsky received her bachelor's and medical degrees from the University of Wisconsin, and completed her post-graduate residency at Gundersen Medical Foundation/La Crosse Lutheran Hospital in LaCrosse, Wisconsin, where she served as Chief Medical Resident.
Related Speakers View all
---
Karen DeSalvo

Chief Health Officer at Google, Former Assistant Sec...

Glen Tullman

Executive Chairman & Founder of Livongo Health

Dr. Aenor Sawyer

Orthopedic Surgeon; Associate Director of Strategic ...

Dr. Jeffrey Bauer

Health Futurist, Author & Medical Economist

Nadine Hachach-Haram

Co-Founder Proximie, NHS Clinical Entrepreneur Fello...

Marty Makary, M.D.

Healthcare Futurist, Johns Hopkins Surgeon & Profess...

Jonathan Godfrey

Chief Executive Officer at By The Bay Project, Autho...

Brian A. Primack, MD, PhD

Dean of the College of Education and Health at the U...

Dr. Joel Selanikio

Award-Winning Physician, Health & Technology Activis...

Megan Callahan

Vice President of Healthcare at Lyft

Timothy Ihrig

Palliative Care Physician & Content Expert to the Ac...

Rishi Manchanda

Physician, Public Health Innovator, President & CEO ...

Erica Weirich

Founder, Global Health Research Foundation

Anton J. Gunn

Motivational Leadership Speaker, Author & Healthcare...

Robin Farmanfarmaian

Medical Entrepreneur, Patient & Futurist

Toby Cosgrove

Former CEO & President at Cleveland Clinic

Daniel Kraft, M.D.

Physician-Scientist; Founder of Exponential Medicine...

Surbhi Sarna

Healthcare Innovator & Founder of nVision

Dr. Craig Spencer

New York Physician; Tested Positive for Ebola

Susan Dentzer

President & Chief Executive Officer of the Network f...
More like Christine