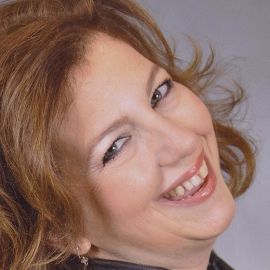 Christine Walters
Christine Walters' Lessons Of Laughter programs will have people LOL while learning and wanting more.
Christine Walters owned and operated the business of ComedySportz Improv Theatre in Richmond for 14 years, and was Richmond first and only improv theatre and restaurant. In 1996, she started ComedySportz* Richmond, and continued performing weekly improvisational comedy shows through 2009. During that time she also managed the performers, office, kitchen and waitstaff, provided improv programs for all ages, began ComedySportz High School and Little League program, co-created six musical parodies along with all the other business functions necessary.
As a result, of being a small business owner she has learned the importance of leadership, teamwork, verbal and non-verbal communication skills, creativity, taking risks, and appreciating the benefits of mistakes. She has also had great experience in teaching the philosophy of "Yes, and" which is the cornerstones of improvisation; "Yes" I accept the offer "and" will build on it. Another powerful lesson learned in the seminars is the ability to learn from our mistakes. Too often we are overwhelmed by mistakes and failures. Theatre and Improvisation has taught Christine the importance to accept mistakes, brush off the failures, learn from the mishaps and move forward.
Through this funny business, Christine has had great opportunities to teach students of all ages the benefits of improv, and the results continue to be profound. Students surprise her all the time with their increased confidence and creativity as a result of her Lessons Of Laughter. Christine Walters and her staff provide creativity, innovation, and team building training seminars for local and national companies, including: Capital One, Carmax, Texas University, Philip Morris, Bank of America, MeKesson Medical Surgical, Allan, Allan, Allan, and Allan and VDOT. She is also a keynote speaker and uses her improvisational and business background to inspire and encourage others to be more creative in their thought processes, increase their leadership skills and team moral.
The "ACTTive" Leader – The Power of Attitude, Commitment, Teamwork, & Trust
In order to be an effective leader we need to ACTT. By applying the principles of Attitude, Commitment, Teamwork and Trust we can provide the leadership that our employees need to be an All Star team.
Yes And, No But – Live in the Moment and Accept the Offer
In our daily life we are rarely focused on the actual day. We are mentally preparing for life tomorrow. The spontaneity of improv teaches us to live in the moment with a Yes And attitude. Be ready to accept offers, and build on them. By accepting offers and being present we hear the joke, laugh more, and stress less.
Fail and Fail Big : And the Good Things that Happen as a Result
Videos
---
Related Speakers View all
---
Amanda Gore

CEO, The Joy Project; Hall of Fame Motivational Spea...

Tina Marie Jones

Connecting with the audience through the style of a ...

Lisa Gansky

Corporate Advisor; Marketing Expert & Author of "The...

Mark Jeffries

Communication Consultant, Presentation Coach, Emcee ...

Pauline van Antwerpen

1001 Faces

Benjamin Zander

Conductor of the Boston Philharmonic Orchestra; Cele...

Christine Cashen

Hall of Fame Motivational Speaker; Author of "The Go...

Ravi Hutheesing

Global Keynote Speaker | Empowering education and bu...

Joan Moran

Joan turns success upside down.

Katie Schmatz

Ohh the Possibilities...

Tonia Renee Lee

Tonia Renee Lee is a professional speaker, minister,...

Charlie Alejandro

Motivational Speaker, Writer, Actress & Radio Talk S...

Mark Scharenbroich

Corporate Motivator, Leadership Expert & Author of "...

Jeffrey Rosenthal

Award-Winning Mathematics Professor & Author

Johanna Blakley

Expert in Popular Culture, Digital Technology and En...

Becky Baker

Speaker & Comedienne

Mary Jane Pories

Award winning actor/improviser bringing tools for ch...

John Meluso

The World's only,Human Bridge, "Connect and Grow Wea...

Keisha Owens

Accessible technology, performance improvement, moti...

Hypnotist The Incredible BORIS

Award-winning Motivational Hypnotist and Keynote Spe...
More like Christine