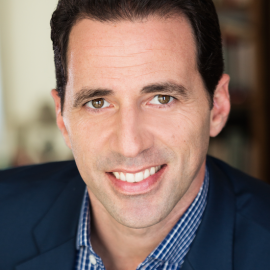 Christopher Dessi
Chris Dessi is CEO of Silverback Social. He is a personal branding expert, author & speaker. In addition to his latest book, Remarkable You: Build a Personal Brand, and Take Charge of Your Career, he has written two other books. Just Like You: 24 Intervie
An award winning digital thinker, author, television & radio commentator, public speaker and educator, Chris Dessi is the CEO and Founder of Silverback Social. Silverback is an award winning digital marketing agency.
Throughout his career in London and New York, Chris has worked with a wide array of businesses ranging from start-ups to Fortune 500 companies, as well as notable personalities, products and brands. Chris travels the country coaching executives and college students how to leverage social media to benefit their personal brand message and their career.
Chris' savvy marketing acumen has propelled his personality into the national media landscape. Chris regularly appears on CNBC, MSNBC, CNN, Fox News, Good Day New York, & FOX BUSINESS's Varney & Co. He has lectured to the United States Marines aboard the Intrepid Sea Air & Space Museum. Chris is a contributor on Inc.com.
In 2012 Chris identified a problem that there was no major digital summit in Westchester, NY. He produced the Westchester Digital Summit, and one year later Forbes named it one of the "Four Lesser-Known Conferences That Deserve Your Attention in 2013," in 2014 they named it one of the "Must-Attend Marketing Conferences For Leaders In 2014." In 2015 Forbes named it one of the "Conferences That Will Keep You Ahead Of Marketing Trends This Year."
Chris has written three books. His first is a leading social media book titled "Your World is Exploding: How Social Media is Changing Everything - and How you Need to Change with it." It shot to #1 on Amazon's "hot new releases" in its first two weeks. Chris is also author of a leading personal branding book titled "Remarkable You: Build a Personal Brand and Take Charge of Your Career." As well as the accompanying online product of the same name, which offers users a deeper dive into personal brand building through online tutorials. He's author of "Just Like You: 24 Interviews of Ordinary People Who've Achieved Extraordinary Success." The book is a motivational look into the lives of successful people in Chris's network.
In 2012, Chris was selected by the Business Council of Westchester's 40 Under 40 for exemplifying leadership, foresight and a vision for the future of Westchester County, where he currently resides with his wife Laura and two daughters Talia & Olivia. Consistent with the passion he holds for his professional career is the devotion he has to his family. Having never been a runner, Chris trained to run the New York City Marathon to raise money for the ALS Association after his father was diagnosed with the disease. When the Marathon was cancelled after Hurricane Sandy hit, Chris took it upon himself to run his own 26.2-mile marathon route in Westchester to honor his father.
Speech Topics
---
Remarkable You: Build a Personal Brand and Take Charge of Your Career
Personal branding expert, and success speaker Chris Dessi will share the proper path to thought leadership in a digital age.
Your Audience will learn: Steps to Build Your Personal Brand and Become a Thought Leader:
How to define your message? How to determine your audience? How to define where do you want to publish your content? How to test topic ideas How to begin to write content -use apps to help, ex: hemingway app to become a better writer How to maximize your content -use sumome to aggregate emails so you can market your content -use co-schedule to scale your content How to properly pitch editors with warm introductions How to proactively engage and build your platform.
Just Like You: 24 Ways Ordinary People Can Achieve Extraordinary Success
Based on the Success book: Just Like You: 24 Interviews of Ordinary People Who've Achieved Extraordinary Success. Success and personal branding speaker Chris Dessi will share the secrets he uncovered in his book.
Your Audience will learn: Steps to become successful no matter what your profession.
If they have the hunger, drive and commitment to do more and be more, then your audience will love this talk. Author and personal branding expert Chris Dessi set out to find the people that most inspired and captivated him, and uncover the secret strategies that anybody could use to become remarkable.
The result is Just Like You – a collection of interviews with those inspiring and captivating individuals where they share what they learned on their climb to the top.
Packed with inspiration, ideas and actionable advice, Chris's talk – Just Like You is a peek into the inner workings of some of the most successful people you've never met.
One constant source of inspiration was the author's father, Adrian Dessi, who sadly lost his battle with ALS in February 2015. Chris begins this speech telling of the time Chris ran a marathon in his Father's honor, even after it had been cancelled. The story was later featured in Sports Illustrated, and Chris featured his Father posthumously in his book Just Like You.