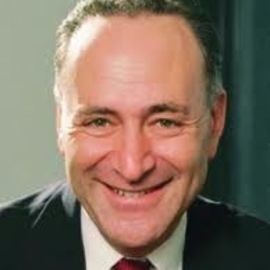 Charles "Chuck" Schumer is the senior United States Senator from New York, a position he was first elected to in 1998. He has served as the Senate Minority Leader since 2017. He is the first New Yorker and the first Jew to serve as a Senate leader.
Schumer, who is a second cousin once removed of comedian Amy Schumer, was born and raised in Brooklyn, the product of Brooklyn's public schools. After scoring a perfect 1600 on the SAT, Schumer attended Harvard University for his undergraduate and law degrees. He earned his Juris Doctor (J.D.) in 1974 with honors, but Schumer never actually practiced law, choosing instead to use his wealth of knowledge of the law in the realm of politics.
Before his election to the Senate, Schumer served in the House of Representatives from 1981 to 1999, first representing New York's 16th congressional district before being redistricted to the 10th congressional district in 1983 and 9th congressional district ten years later. A native of Brooklyn and a graduate of Harvard College and Harvard Law School, he was a three-term member of the New York State Assembly from 1975 to 1980. Schumer was chairman of the Democratic Senatorial Campaign Committee from 2005 to 2009, during which time he oversaw 14 Democratic gains in the Senate in the 2006 and 2008 elections. He was the third-ranking Democrat in the Senate, behind Senate Minority Leader Harry Reid and Minority Whip Dick Durbin. He was elected Vice-Chairman of the Democratic Caucus in the Senate in 2006. In November 2010, he was also chosen to hold the additional role of chairman of the Senate Democratic Policy Committee. Schumer won his fourth term in the Senate in 2016 and was then unanimously elected Minority Leader to succeed Harry Reid, who was retiring.
Schumer and his wife, Iris Weinshall, have two daughters together, Jessica and Alison. Iris served as New York City's commissioner of transportation from 2000 to 2007.
Videos
---