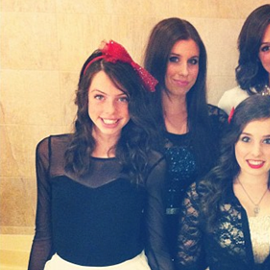 Search for "Cimorelli" on YouTube and there they are: six smiling sisters performing the pop hits of the day in an a cappella style, their voices blending in perfect unison. Not only do these girls know harmony, Christina (21), Katherine (20), Lisa (18), Amy (17), Lauren (13), and Dani (12) are each musicians who write their own songs, talents that impressed executives at Universal Records, which signed Cimorelli in April 2010.
"We all love different styles of music, everything from R&B and hip-hop, to country, to indie rock and '80s synth-pop, which gives our music a unique edge," says Lisa. "But as a group, we're strongly influenced by The Jackson 5, The Beach Boys, and Stevie Wonder -- classic artists who've inspired us to write, sing, and perform at the highest level possible."
It's not surprising that the Cimorelli sisters have high musical aspirations. Raised along with their five brothers in Sacramento, CA, each member of the group was introduced to music between the ages of two and four by their mother, Lynne -- a college music major, composer, and former choir director who taught the girls classical piano, three-part barbershop harmonizing, and vocal jazz. In 2002, Christina, Katherine, and Lisa began to perform locally and recruited Amy and Lauren as they became old enough to join the group. The girls did musical theater, appearing in several productions while immersing themselves in dance, acting, and instrument lessons. (Christina and Lauren play keyboards, Amy plays rhythm guitar, Katherine plays bass, and Lisa plays the drums.)
In 2007, the oldest five girls launched Cimorelli as a vocal group. "We'd been singing together since we were young, so it felt natural to make it official," says Katherine, who along with Christina and Lisa studied music theory in college. The girls focused on sharpening their songwriting skills and released a self-titled album in December 2008. Around this time, they began to notice the growing number of videos popping up on YouTube of young people performing covers of their favorite songs.
In August 2009, Cimorelli posted a clip of themselves singing Miley Cyrus' "Party in the USA." The girls' upbeat energy caught the attention of thousands of fans, who began to flock to their YouTube channel, including a 13-year-old girl in London whose mother happened to be a well-connected music manager. Crown Music's Sarah Stennett, who also represents British pop superstars Sugababes and rising singer Jessie J, signed on immediately and engineered Cimorelli a deal with Universal Records. Ten-year-old spotlight-stealer Dani officially joined the group this past summer and it's been full steam ahead ever since. Cimorelli's YouTube Channel, where fans can watch clips of the group performing songs by Katy Perry, Taio Cruz, and Bruno Mars, has racked up more than 250 million upload views since it was created two years ago and currently have over 850,000 subscribers; not that their success has gone to their heads.
"Even though we're from a big family, we're all very normal and positive," says Christina, "and I think that's what our fans relate to. A lot of them are girls our own age, and hopefully we can inspire them to pursue their dreams, just like we are pursuing ours."
The girls are currently recording their debut album.
Related Speakers View all
---
Little Mix

British Three-Piece Girl Group; Known for Single "Sh...

Carly Rae Jepsen

Recording Artist; Known for the Viral Sensation "Cal...

Justin Bieber

Canadian Singer Most Known for "Where Are Ü Now" & "...

Liz Leonard

Marketing Leader Synchrony Financial

Meghan Trainor

Grammy Award-Winning Singer & Songwriter; Best Known...

Tiffany Alvord

Singer-Songwriter in the Top 50 Most Subscribed Musi...

Kurt Hugo Schneider

Music Producer and Filmmaker with over 4 Million You...

Megan Nicole

YouTube Sensation Turned Recording Artist; Known for...

MattyB Raps

Rapper & Internet Sensation

G. Correa Cabrera

Faculty member and Chair, Government Department, UT ...

Julie Newmar

Tony-Award-Winning Dancer & Actress

The Vamps

British Pop Rock Band Compared to the Likes of One D...

Madison Beer

Singer-Songwriter

Bleached

Female Indie Rock Duo From Los Angeles

Ella Henderson

Singer-Songwriter & Finalist on the Ninth Series of ...

NONONO

Swedish Music Group Known for the Hit Single "Pumpin...

Brandy Clark

Country Music Singer-Songwriter; Known for "Stripes"

Pattie Mallette

Mother of Justin Bieber; Author of "Nowhere But Up"

Claudia Leitte

Brazilian Axé and Pop Singer; Former Vocalist of the...

Ivete Sangalo

Latin Grammy Award-Winning Brazilian Axé and Pop Sin...
More like Cimorelli