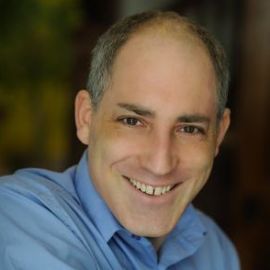 Colin Stokes
The director of communications for the non-profit Citizen Schools, Colin Stokes thinks deeply about the media he shares with his two young children.
Colin Stokes divides his time between parenting and building the brand of Citizen Schools, a non-profit that reimagines the school day for middle school students in low-income communities in eight states.
As Managing Director of Brand & Communications, Colin helps people within the organization find the ideas, words and stories that will connect with more and more people.
He believes that understanding the human mind is a force that can be used for good and seeks to take advantage of our innate and learned tendencies to bring out the best in each other and our culture.
Before starting a family, Colin was an actor and graphic designer in New York City. He starred in the long-running off-Broadway musical I Love You, You're Perfect, Now Change, as well is in several musicals and Shakespeare stagings.
But he jokes that he seems to have achieved more renown (and considerably more revenue) for his brief appearances on two Law & Order episodes.
Videos
---
Related Speakers View all
---
Mitch Resnick

Mitchel Resnick is LEGO Papert Professor of Learning...

Jon Bergmann

Pioneer of the Flipped Class Movement & Bestselling ...

Michael Stevens

YouTube Sensation; Best Known as Vsauce

Peter Hinssen

Cloud Computing & Technology Expert, Thought Leader ...

Cesar Kuriyama

Director, Producer & TED Speaker; Known for 1 Secon...

Leslie Dodson

Reporter & Videographer Covering International Finan...

Avi Rubin

Professor of Computer Science & Technical Director o...

Tyler DeWitt

Research Scientist; High School Teacher, Digital Con...

Katherine Kuchenbecker

Assistant Professor in the Mechanical Engineering an...

Malcolm London

Young Poet, Educator, Activist & TED Speaker Known F...

Eli Pariser

Co-founder & Chief Executive of Upworthy, Author of ...

Ben Kacyra

Ben Kacyra is the founding director of CyArk, a nonp...

Joe Sabia

Head of Development at Conde Nast Entertainment, Dir...

Cynthia Germanotta

Co-Founder of the Born This Way Foundation with Daug...

Kevin Allocca

Head of Culture & Trends at YouTube

Debbie Millman

Writer, Educator, Artist, Brand Consultant & Host of...

Lori Cheek

Architect; Entrepreneur; Founder & CEO of Cheekd

Gijs van Wulfen

Founder of the FORTH Innovation Method

Dr. Anthony Fauci

Director of the National Institute of Allergy and In...

Dyana Valentine

Oracle & Entrepreneur; Founder of WHY and creator of...
More like Colin