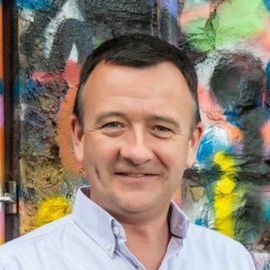 Colm Lyons
Founder Realex Payments Ireland
Colm Lyon is the CEO and Founder of Fire Financial Services (www.paywithfire.com). He was the founder and CEO of Realex Payments up until the time the business was acquired in March 2015 for €115m by Global Payments. Colm remains with the business as a non-executive director.
His latest venture – Fire Financial Services is a regulated Payments Institution offering business and personal payment accounts - branded as PayWithFire, it aims to transform banking services by providing payment accounts that are more integrated, accessible and safe. PayWithFire has been developed over several years and is led by an experienced payments leadership team.
From 2000 to 2015, Colm led Realex Payments to be one of Europe's largest online payment gateways – processing in excess of €28B euro per annum in online payments for over 12,500 retailers, including some of the world's leading brands – Vodafone, Aer Lingus, Virgin Atlantic, Paddy Power, Chain Reaction Cycles, AA, 32Red, notonthehighstreet.com to name a few. Colm is a strong leader and led the business forward, over 15 years within a strategic framework that saw an appropriate balance between innovation and operations. At the time of the acquisition Realex Payments employed 170 people, had clients in 30 countries and offices in Dublin, London and Paris.
Colm is heavily involved in working with the internet community – chairing the Irish Internet Association for several years and founding the Internet Growth Alliance. The latter was a significant force within the internet community and contributed to the highly acclaimed Internet Growth Acceleration Programme (iGAP). He has been acknowledged with numerous awards over the years (see below). Colm is a regular industry speaker on payments, business start-up and strategy. In 2014 he set up Payments Ireland and in 2015 he was appointed Chair of the Fintech and Payments Association of Ireland.
Specialties: Internet Payments, Strategy, International Business, Leadership