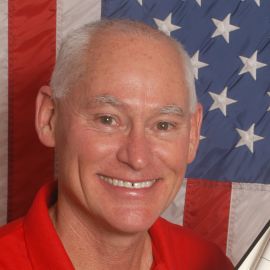 Colonel Mike Mullane was born September 10, 1945 in Wichita Falls, Texas but spent much of his youth in Albuquerque, New Mexico, where he currently resides. Upon his graduation from West Point in 1967, he was commissioned in the United States Air Force. As a Weapon Systems Operator aboard RF-4C Phantom aircraft, he completed 134 combat missions in Vietnam. He holds a Master's of Science Degree in Aeronautical Engineering from the Air Force Institute of Technology and is also a graduate of the Air Force Flight Test Engineer School at Edwards Air Force Base, California.
Colonel Mullane was selected as a Mission Specialist in 1978 in the first group of Space Shuttle Astronauts. He completed three space missions aboard the Shuttles Discovery (STS-41D) and Atlantis (STS-27 & 36) before retiring from NASA and the Air Force in 1990.
Colonel Mullane has been inducted into the International Space Hall of Fame and is the recipient of many awards, including the Air Force Distinguished Flying Cross, Legion of Merit and the NASA Space Flight Medal.
Since his retirement from NASA, Colonel Mullane has written an award-winning children's book, Liftoff! An Astronaut's Dream, and a popular space-fact book, Do Your Ears Pop In Space? His memoir, Riding Rockets: The Outrageous Tales of a Space Shuttle Astronaut, has been reviewed in the New York Times and on "The Daily Show with Jon Stewart." It has also been featured on Barnes and Noble's 2010 recommended summer reading list.
Colonel Mullane has held a lifelong passion for mountain climbing. Since age 60 he has summited Africa's highest peak, Mt. Kilimanjaro, as well as Mt. Rainier in Washington State and thirty-five of Colorado's 14,000 ft. peaks.
Colonel Mullane has established himself as an acclaimed professional speaker on the topics of teamwork, leadership and safety. He has educated, entertained, inspired and thrilled tens of thousands of people from every walk of business and government with his incredibly unique programs.
Videos
---
Speech Topics
---
Countdown to Teamwork
In this presentation, leadership speaker Mike Mullane illustrates that teams are the best when they practice certain fundamentals. He uses experiences he had as an astronaut and Air Force flyer to develop these fundamentals, including: guarding against the "normalization of deviance," responsibility, trust, courageous self leadership, and courageous team leadership.
The Lighter Side of Space Flight - Mike Mullane takes audiences on a uniquely revealing, captivating, and hilarious space journey. Using spectacular video and slides, he answers everybody's space questions. The audience will not only be entertained by this lecture, but will also gain entry into the world of the astronaut, an experience few people get to have.
Countdown to Safety
In his program, "Countdown To Safety", Astronaut Mullane delivers a powerful message on the individual's role in keeping themselves and their teams safe in hazardous environments. Mullane introduces this subject with a recount of his own near-death experience in a fighter jet, when he failed to speak up about an unsafe situation. He assumed another crewmember, with more flying time, "knew best" about the safety of their operations. At a critical moment in a hazardous operation, Mullane surrendered his responsibility for safety to someone else and became a "safety passenger". The result was his (and the pilot's) narrow escape during their ejection from the crashing jet.
Mullane continues this thread: that each individual brings to their team a unique perspective on safety. Only when every person's perspective is available for analysis can a team be truly safe.
Another significant message within Mullane's "Countdown To Safety" program is his discussion on "Normalization of Deviance". He uses the space shuttle Challenger disaster to define this term, its safety consequences, and how individuals and teams can defend themselves from the phenomenon.
Challenger was the result of a failure of a booster rocket O-ring seal. Viewers will be shocked to know this failure was predicted: "It is my honest and very real fear that if we do not take immediate action to solve the problem, with the O-ring having the number one priority, then we stand in jeopardy of losing a flight along with all the launch pad facilities." (From a NASA-contractor memo dated six months prior to Challenger).
When a burn-damaged O-ring (a criticality 1 deviance) was first observed following the second shuttle mission, NASA, under enormous schedule pressure, convinced themselves the problem could be fixed with minor modifications to booster assembly procedures and that a grounding the fleet (required for a criticality 1 deviance) was not necessary. As flights continued safely the correctness of the decision to accept the deviance was reinforced. Slowly the team's launch decision-making became infected with this logic: repeated success in accepting a "grounding" deviance implied future success. Challenger was a "predictable surprise".
After defining "Normalization of Deviance", Astronaut Mullane continues with an explanation of how individuals and teams can defeat this dangerous phenomenon through these practices: Recognize one's vulnerability to it; if it can happen to NASA it can happen to anybody.
Plan the work and work the plan…under the umbrella of "situational awareness".
Listen to people closest to the issue.
Archive and periodically review near-misses and disasters so the corporate "safety" memory never fades. (The loss of the space shuttle Columbia…17 years after Challenger…was a repeat of "Normalization of Deviance". NASA's safety memory had faded over those 17 years.)
The messages delivered in "Countdown To Safety" are reinforced with rarely seen NASA video and slides. The program is hard-hitting and fast-paced. It is certain to open the eyes of every viewer to their individual criticality to team safety.
The Lighter Side to Space Flight
In his program, The Lighter Side of Spaceflight, Astronaut Mike Mullane will take the audience on a uniquely revealing, captivating and hilarious space journey. Using spectacular video and slides he will answer everybody's space questions: What does a shuttle launch feel like?…How does an astronaut deal with the incredible fear of launch?…How do you sleep, bathe, eat, drink, etc.?….What do you see from space?…And, of course, he will answer the top two questions that astronauts are ever asked:
Number 1: How does the space toilet work?
Number 2: Has he seen any UFOs or aliens?
The answers to these questions and many, many more are lavishly wrapped with inside, hilarious stories and supported with amazing video.
The audience will not only be thoroughly entertained by The Lighter Side of Spaceflight but will they will also find Mullane's message on goal setting and achievement to be powerfully inspirational. Most audiences are shocked to learn how ordinary Mullane was. People assume, because he is an astronaut now, that in his youth, he was a super-child, destined for great success. That is not the case. Mullane uses slides and video to prove he wasn't a child genius. He wasn't a high school sports star. He didn't date the homecoming queen. He wasn't popular. (He shows a slide of the dedication pages from his high school year book…which are blank except for a single inscription: "You missed Korea but here's hoping you make Vietnam".)
Yet, Mullane realized a lifetime dream of becoming an astronaut through the practice of "mapping the edge of his performance envelope". Every individual and team has an "edge of a performance envelope" and individuals and teams find those "edges" (as team member, leaders, parents, spouses, etc.) through self-challenge and tenacity. (Mullane's father was rendered a paraplegic at age 33 by polio and Mullane's story of his parents response to that tragedy while raising six children is the basis of his message on tenacity and goal-achievement in the face of adversity). Mullane develops this philosophy of self-leadership: "Success isn't a final destination. It's a continuous life journey of mapping our performance envelopes through challenge and tenacity."
The Lighter Side of Spaceflight is remarkably inspirational and humorous. The audience will come away from the program with a renewed sense of their potential and the potential of their teams.
Related Speakers View all
---
Story Musgrave, M.D.

Retired NASA Astronaut; Physician & Professor at Art...

Dick Rutan

Voyager Pilot, Adventurer and Aviation Pioneer

Rob Waldo Waldman

Decorated Fighter Pilot; Power of Relationships & Tr...

Thomas D. Jones, PhD

Former NASA Astronaut & Planetary Scientist; Author

Ken Mattingly

Former NASA Astronaut & Test Pilot; Retired Admiral ...

Leroy Chiao

Former Astronaut & International Space Station Comma...

Scott O'Grady

Former U.S. Air Force Captain, Fighter Pilot Who Sur...

Dottie Metcalf-Lindenburger

Former NASA Astronaut; Educator & Earth Scientist

Captain Jim Lovell

Legendary NASA Astronaut; Apollo 13 Commander

Derek Daly

International Racing Champion, Bestselling Author, C...

John Foley

Former Lead Solo Pilot for the Blue Angels; Founder ...

Mary Ellen Weber

Former NASA Astronaut & Legislative Affairs Liaison ...

Vince Papale

Former NFL Player & Inspiration for the Movie "Invin...

Mike Abrashoff

Former Commander of USS Benfold & Author of "It's Yo...

Gregory H. "Box" Johnson

Former NASA Astronaut, Retired Air Force Colonel & P...

Ron Garan

Retired NASA Astronaut, Fighter Pilot & Author of "T...

Scott Parazynski

Astronaut, Physician & Everest Summiter

Paul Deegan

Motivational and Leadership Expert, Everest Mountain...

Captain Gerald Coffee

Former Vietnam Prisoner of War and Inspirational Spe...

Anousheh Ansari

CEO of X Prize Foundation & First Female Private Spa...
More like Colonel