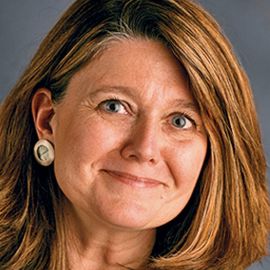 It was the gift for crafting "pungent columns that provided a voice for the underdog and underprivileged" that garnered Cleveland Plain Dealer columnist Connie Schultz the 2005 Pulitzer Prize Award for Commentary. With a clear understanding of the joys, foibles, and quandaries of the everyday moments of common folk, her observations resound with people from all walks of life.
Schultz infuses her distinctive voice with a unique sensibility about the way things are and the way they should be. The author of Life Happens: And Other Unavoidable Truths, she displays her clever wit and astute observation, commenting on a wide spectrum of people and events from across the country. In her upcoming book, And His Lovely Wife: A Campaign Memoir from the Woman Beside the Man, she reflects on her life as the wife of a US Senator, revealing the rigors of political campaigns and shenanigans she has witnessed along the way to the US Capitol.
Deep from within the poignant moments of her own life and those she so keenly tapped into around her and around the country, Schultz's straightforward thoughts continue to come to life in her honest words. Telling the stories of regular people, regaling the underdog with her crisp, and yet heartfelt prose, she offers a fresh, insightful commentary on life today.
Videos
---
Speech Topics
---
Life Happens and Other Avoidable Truths
And His Lovely Wife: A Campaign Memoir from the Woman Beside the Man
Related Speakers View all
---
Nicholas Kristof

Pulitzer Prize-Winning New York Times Columnist & Po...

Ellen Goodman

Pulitzer Prize-Winning Columnist, Author, Speaker & ...

Sheryl WuDunn

Pulitzer Prize-Winning Journalist; Co-author of Half...

Lynn Sherr

Award-winning Broadcaster & Best-selling Author; Cor...

Asra Nomani

Journalist & Author, Women's Rights Activist

Sonia Nazario

Pulitzer Prize-Winning Author & Journalist; Author o...

Laura Ingraham

Political Commentator, Television Host & Journalist

Catherine Crier

Acclaimed Author, Former Judge, Award-Winning Journa...

Kevin Powell

Writer, Humanitarian, President of BK Nation

Iris Krasnow

Best-Selling Author & Relationship Expert

David Goodman

Investigative Journalist / Author

Karl Fleming

Award-winning Newsweek magazine and CBS journalist K...

Robert Bryce

Energy Expert, Veteran Journalist & Acclaimed Author

Calvin Trillin

Author, Columnist, Humorist & Political Satirist

Peter Salgo

Healthcare Futurist, Emmy Award-Winning Health & Sci...

Jonathan Kozol

Educator & Social Justice Advocate

Angela Davis

Feminist, Social Activist, Professor & Writer

Donna Brazile

Veteran Political Strategist, Bestselling Author, Fo...

Ben Bradlee

Vice President-at-large of "The Washington Post"

Noël Jones

Writer, Slam Poet, Former member of the 2000 Nationa...
More like Connie