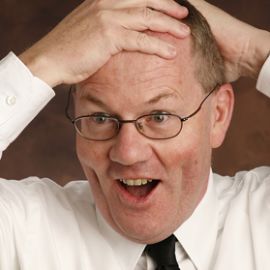 Who is IrishmanSpeaks? An Irishman happily exiled in Chicago, where the natives are friendly and he's been force-fed more corned beef than he ever had in Ireland!
Incentive Marketing Association writes: "In my close to thirty years of association work, I have never seen a speaker as well received as you."
What does he do? To Associations, Healthcare and Corporations, Conor provides Education and Substance with Humor which has audience and clients Learning and Laughing. Conor combines multi-national experience with the humor that won Chicago Humorous Speaker of the Year to ensure your audience leaves with a smile on their face and a spring in their step knowing they can be more effective in Business, Teamwork, Communication, Leadership and Productivity.
Edward Hospital: "Fantastic speaker on the Gift of GAB (Goals, Attitude, Behavior) – much appreciated and taken to heart to be used when times can be difficult at home and at work. Thank you. I wish more of our staff nurses could experience it. We will have to take the message back." Edward Hospital
His Business Expertise?
He is also an in-demand, thought-provoking speaker on leadership and marketing who presents powerful and compelling business Substance with Humor to audiences from Harley-Davidson to Helsinki, from Memphis to Madrid.
A former VP Marketing with multi-national giant Unilever, Conor has worked in senior Marketing and Sales positions on world-class brands as diverse as Hellmann's, Ben & Jerry's, Thomas's English Muffins, Knorr and Lipton. Prior to joining Unilever, he worked with Nokia, and was a Brand Manager with Heineken. He was designated a Fellow of the Marketing Institute of Ireland in recognition of his marketing and branding expertise.
The Conor Cunneen Brand Promise is E4: Energize, Educate, Entertain and Easy to work with. I keep that promise.
Insurance client (name available on request) writes: "As the person who coordinates all of our speakers year after year, I want to tell you that you offered a very welcome breath of fresh air in booking and executing our keynote speech. Getting information from you was easy, you followed through on your commitments every time and you were an inspiration to our customers."
Areas of Expertise * Humorous, Motivational Programs. (Winner Chicago Humorous Speaker of the Year) * Healthcare / Nursing / Oncology (Two time cancer survivor. "Having had a thyroidectomy and a prostatectomy, I now have an Irish condition known as 'There's not much left-o'-me!' ") * Leadership, Marketing, Business Growth. (Former VP Marketing Unilever who has worked in Ireland, UK and USA)
.
SITE Europe writes: "Conor was the perfect closing keynote speaker for our conference in Málaga, Spain. Frequently very funny, sometimes irreverent, but always with a serious message, he kept our delegates well entertained. His quirky take, even on mundane matters such as leaving your room before checking out of a hotel, showed us a completely different perspective, and many of us were dancing on mushrooms (his phrase) the next morning as we left the hotel. As our delegates put it, - Fantastic! - Very clever and certainly got message across - Excellent speaker - Fabulous! - compelling, entertaining and memorable"
A serious student of the communication process and how to connect effectively with his audience, Conor is one of less than 70 people in the history of Toastmasters to be awarded Accredited Speaker designation. A multiple author, he is currently working on his new book - What Mark Twain Learned Me 'bout Public Speaking. His other books include Why Ireland Never Invaded America (that's an acclaimed business book), For the Love of Being Irish, and SHEIFGAB: 8 Building Blocks to Successful Job Transition.
Conor hosted JobTalk on Chicago radio for 5 years. He is a recipient of the National Speaker Association Nick Carter Award for Commitment to the Speaking Profession and represented Chicago at the 2010 World Championship of Public Speaking. He is a board member MPI Chicago, and the Community Career Center, Naperville.
Related Speakers View all
---
Jeff Tobe

Customer Experience Expert

Arnold Sanow

Nationally Renowned Business, Communications & Peopl...

Mike Schlappi

Paralympic Medalist

Jerry Fletcher

CEO of Z-axis Marketing, Inc; Expert Business Speaker

Ty Bennett

Best-Selling Author & Leadership Expert

Patrick Galvin
Dave Lieber

Speaker, Columnist & Yankee Cowboy humorist

James D. Feldman, CSP, CITE, CPIM, CPT

Jim is a Innovation and Meaningful Memories Customer...

Kordell Norton

Author, Speaker & Sales Expert

Jones Loflin

Internationally-Recognized Author & Speaker on Chang...

Patrick Leroux

Best-Selling Author & Entrepreneur

Gayle Cotton

Bestselling Author, Keynote Speaker, Executive Coach...

David McLauren Ph.D.

Increase profit and productivity through diversity. ...

Shep Hyken

Customer Service & Experience Expert; New York Times...

Peter Davison

Peter's tales and tools enrich relationships, deepen...

Scott McKain

Customer Experience Expert & Best-Selling Business A...

Amanda Gore

CEO of The Joy Project; Author & Psychologist; Emoti...

Rolfe Carawan

President of LifeMatters International; Accountabili...

Jeffrey Magee

Recently bestowed with the "US Medal of Freedom and ...

Ford Saeks

Business Growth & Internet Marketing & Social Media ...
More like Conor