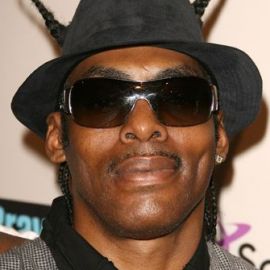 Coolio began rapping from a young age and performed in many local Los Angeles rap contests as a youth. He recorded two singles in the late 80s, titled "Watcha Gonna Do" and "You're Gonna Miss Me". Neither single was successful, but Coolio had made connections in the Los Angeles rap scene, and ended up joining the group WC and the Maad Circle in 1991.
Three years later, Coolio signed to Tommy Boy Records and released his debut solo album, It Takes a Thief. The album contained the single "Fantastic Voyage," which became Coolio's breakout song. It peaked at #3 on the Billboard Hot 100, making it one of the biggest rap singles of the year. Overall, the album was very successful, peaking at #8 on the Billboard Hot 200 and being certified Platinum. The album received praise for bringing a humorous and lighthearted perspective to often violent and profane themes of typical gangsta rap.
After the success of his debut, Coolio became a legitimate rap star. In 1995, he orchestrated the song "Gangsta's Paradise" for the movie Dangerous Minds. "Gangsta's Paradise", which featured R&B singer L.V., would become one of the most successful rap songs of all time, reaching #1 on the Billboard Hot 100 for 3 weeks. It was the #1 single of 1995 for all genres, and was truly a global hit, reaching #1 in the United States, United Kingdom, Ireland, France, Germany, Italy, Sweden, Austria, Netherlands, Norway, Switzerland, Australia, and New Zealand. The song also created some controversy when Coolio claimed that parody artist Weird Al Yankovic had not asked for permission to make his parody of "Gangsta's Paradise", titled "Amish Paradise"
After the massive success of the Gangsta's Paradise album, Coolio had a tough job to make a proper follow up. In 1996, he had another top 40 hit with the song "It's All the Way Live (Now)" from the Eddie soundtrack. He was also featured on the song "Hit 'em High" from the soundtrack to the hit movie Space Jam with B-Real, Method Man, LL Cool J, and Busta Rhymes. Then, his third solo album, titled My Soul, came out in 1997. Although it did contain the major hit "C U When U Get There", the album was considered a disappointment. Subsequently, Coolio was dropped from Tommy Boy Records.
While he was not signed to a label during the late 90s, the rapper continued moving forward, pursuing his other passions. Coolio dabbled in the world of acting, where he landed a series of roles on shows such as The Bill, Sabrina the Teenage Witch, and The Nanny. In the early 2000s, Coolio was featured with his family in the Oxygen cable television network's reality show Coolio's Rules. The program followed Coolio as he tried to raise a family, start a new catering business, and date. Along with television appearances, he was part of the television horror film Pterodactyl as a military officer. Additionally, Coolio appeared in the director's cut version of Daredevil, starring Ben Affleck, where he played a kindhearted man who was accused of murder.
Rapping and acting allowed Coolio to express his artistic side, but in the late 2000s, he decided to show his not so well known domestic side. He hosted an online cooking show along with jazz recording artist "Jarez," called Cookin' with Coolio, for the website and network My Damn Channel. A companion cookbook was then published, named Cookin' with Coolio: 5 Star Meals at a 1 Star Price, published by Simon and Schuster. Coolio's wide range of experiences and talents are sure to inspire audiences to follow their dreams. His perspective on rap, empowering youth, and other current events is both unique and relevant to today's urban discussions.
Videos
---
Speech Topics
---
Out of the Projects, Into The Studio
From being involved in gangs, violence, and drugs to becoming a Grammy award-winning rapper, Coolio shares his story of overcoming adversity in order to follow his dreams. This in depth look into the rapper's life reveals another side to the music icon. Audiences will be inspired as he reflects on his upbringing, family, and finding a will and a way to turn his life around.
Heritage Begins Within: Inspiring & Empowering Our Youth
Not only does Coolio work to motivate audiences through his lyrics, but also through his experiences empowering youth. Using his heritage as a foundation, Coolio aims to bring together your community by providing advice to kids, adults, and people across the nation in order to make the world a better place.
Rhythm of The Street: A Hip-Hop View of Current Events
Hip-hop music has greatly influenced Coolio, playing a large role in defining his views on current events. Ranging from racial issues to education to global warming and more, the rapper discusses what it will take for younger generations to become empowered to fight for change by following the same rhythm of the street.
My Rap on Music
In this lecture, Coolio tells his personal story of rising to fame and being the top rapper in the game during the 90s. He also shares the struggles he faced in the music industry as he climbed the ladder of success, performing a couple of his hit tracks for audiences to enjoy.
A "Gangsta's Paradise": Coolio the Humanitarian
Coolio landed a number one hit in the song "Gansta's Paradise," but this accomplishment doesn't define the Grammy award-winning rapper. He finds his true "paradise" in spreading the word on the importance of humanitarian efforts. Coolio talks about juggling a hip-hip and acting career along with being a philanthropist, all while raising a family. He is an advocate for the Asthma and Allergy Foundation, in addition to many other various charities. Listen to what he has to say through his unique perspective on giving back to the community.
Related Speakers View all
---
Ying Yang Twins

Atlanta-Based Hip Hop Duo; Known for "Wait (The Whis...

Asher Roth

Hip Hop Recording Artist; Best Known for "I Love Col...

Mike Stud

Hip Hop Artist & Rapper

Ja Rule

Rapper, Singer, Songwriter, Record Producer, Record ...

Noname

Hip Hop Artist & Poet

Iamsu!

Rapper and Record Producer; Member of the Production...

Plies

Rapper; founder of Big Gates Records.

Naughty by Nature

Grammy Award-Winning Rap Group

Travis Porter

Hip-Hop Trio Known for "Ayy Ladies," "Bring It Back"...

DJ Jazzy Jeff

Record Producer, DJ, Actor & Comedian

Fabolous

Rapper & Hip Hop Recording Artist

Killer Mike

Hip-Hop Artist & Activist Focused on Social Inequali...

Lil Baby

Rapper Known for "Drip Too Hard" and "Yes Indeed"

Eminem

Grammy Award-Winning Rapper; Also Known as "Slim Shady"

Ice-T

Rapper, Record Producer, Actor Known for "Law & Orde...

Nas

Grammy-Nominated Rapper, Songwriter & Record Producer

DJ Luke Nasty

DJ and Rapper

Young M.A.

Rapper Known for the Hit Single "Ooouuu"

Tee Grizzley

Hip-Hop Recording Artist

K CAMP

Rapper & Producer
More like Coolio