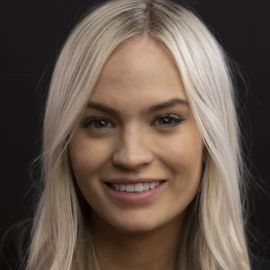 Courtney Scharf
Consumer Behavior and Work Flow Expert, Futurist & Chief Client Officer at Trend Hunter
As the Chief Client Officer, Courtney Scharf develops, maintains and optimizes Trend Hunter's advisory service, overseeing the client relations team. She's spoken on the topic of innovation at events like Foresight and Trends, Future Festival, and the Salesforce Women's Summit. She has created and customized more than 200 custom trend reports for her clients, and specializes in consumer behavior, specifically as it pertains to motivation, preference, and leisure.
Courtney is a firm believer in the power of trends and innovation. Her passion lies in diagnosing and enhancing the innovation process and flow of Fortune 500 companies, such as Hasbro, Best Buy, Mastercard, Viacom, Hasbro, T Marzetti and 7-Eleven. Courtney is the founder of Trend Hunter's Client Research Team, which today has completed more than 8,000 custom trend reports and workshop projects for hundreds of the world's best innovation teams. She has been an innovation and research advisor to Samsung, Adidas, Nestle, Disney and NASA.
Videos
---
Speech Topics
---
The 18 Megatrends Matrix
This session is based in Trend Hunter's own reusable Trend Hunting framework, the 6 Patterns of Opportunity, and our newly developed network of 18 evergreen consumer behavior-based trends. Each Megatrend will be briefly explained, with the most relevant explained more in-depth. These trends cross industries, and are illustrated through case studies from various categories.
Cracking the Leisure Code
The mission across many industries is "consumercentricity." The best way to learn what consumers really want is to understand what they do in their free time and why. This presentation explores the internal and external motivators behind what consumers define as fun today.
Modern Entertainment
Consumers of all sorts are prioritizing unique, worthwhile experiences over products. We dive into the evolution of entertainment expectations across travel, nightlife, leisure and all things fun. This session adds color to any customer portrait, diving into consumer behavior beyond generation and purchasing habits, and into motivations.
Omnichannel Retail
In order to understand the future of retail, forget what you think you know about siloed, multi-channel approaches, and accept that omnichannel – the creation of seamlessly interchangeable platforms across all entities – is the foundation for successful retailers. How is omnichannel being executed?