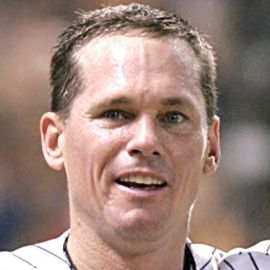 Craig Alan Biggio is an American former second baseman and catcher in Major League Baseball who played his entire career from 1988 through 2007 for the Houston Astros. A seven-time National League (NL) All-Star often regarded as the greatest all-around player in Astros history, he is the only player ever to be named an All-Star at both catcher and second base. With longtime teammates Jeff Bagwell and Lance Berkman, he formed the core of the "Killer B's" who led Houston to six playoff appearances from 1997 to 2005, culminating in the franchise's first World Series appearance in 2005.
At the end of his career he ranked sixth in NL history in games played (2,850), fifth in at bats (10,876), eighth in hits (3,060) and seventh in runs scored (1,844). His 668 career doubles ranked fifth in major league history, and are the most ever by a right-handed hitter; his 56 doubles in 1999 were the most in the major leagues in 63 years.
Biggio, who batted .300 four times and scored 100 runs eight times, holds Astros franchise records for most career games, at bats, hits, runs scored, doubles, total bases (4,711) and extra base hits (1,014), and ranks second in runs batted in (1,175), walks (1,160) and stolen bases (414). He also holds the NL record for most times leading off a game with a home run (53), and is one of only five players with 250 home runs and 400 steals. A four-time Gold Glove Award winner who led NL second basemen in assists six times and putouts five times, he retired ranking fourth in NL history in games at second base (1,989), sixth in assists (5,448) and fielding percentage (.984), seventh in putouts (3,992) and double plays (1,153), and eighth in total chances (9,596). He was the ninth player in the 3,000 hit club to collect all his hits with one team. Biggio also led the NL in times hit by pitch five times, with his career total of 285 trailing only Hughie Jennings' 287 in major league history.
One of the most admired players of his generation, Biggio received the 2005 Hutch Award for perseverance through adversity and the 2007 Roberto Clemente Award for sportsmanship and community service. The Astros retired the number 7 in his honor the year following his retirement. Since 2008, Biggio has served as special assistant to the general manager of the Astros. He was elected to the National Baseball Hall of Fame in 2015, and is the first member of the Hall to be depicted in an Astros uniform on his plaque.
Videos
---