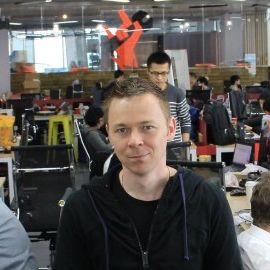 Cyril Ebersweiler
General Partner at SOSV & Founder of HAX
Cyril is a venture partner at SOSV and the founder of HAX. He built and run the first mentorship-driven seed funding program in China, Chinaccelerator, home of the Techcrunch Disrupt winner Orderwithme. He also founded HAX, an accelerator for hardware-related startups based in Shenzhen and the Bay.
He is mentoring at Techstars, 500startups, OnLab and East Ventures Alpha, an advisor to the Global Accelerator Network as well as a board member/advisor to a few startups including Leap Motion. He has been investing across the universe (and beyond) and helps entrepreneurs become truly global.
Places were Cyril gave lectures, went on panel or organized startup competitions include AdTech, MIT GSW, MIT CHIEF, GMIC, CESIF, Shanghai Jiatong University, DMU, DUT, NEUSOFT, Samurai Incubate, RailsRumble, Nodeknockout, IBM Smartcamp, NUS, etc… He is the organizer of the 10×10 Conferences held in Beijing and Shanghai.
Videos
---