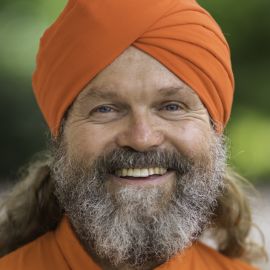 Dada Nabhaniilananda - "The Monk Dude"
Mindfulness and Creativity Reduce Stress and Enhance Productivity.
Dada Nabhaniilananda, also known as The Monk Dude, is an Award-Winning Songwriter, Author, Comedy writer, World Traveller, Youth Mentor, Meditation Instructor & Yoga Monk.
Dada was born in 1955 in New Zealand. In 1979 he was ordained as a yoga monk with the Ananda Marga Yoga Society. He has won three international songwriting awards, produced seven musical albums, appeared on stage with the Dalai Lama in Brazil where he performed for more than 10,000 people, published a book in five languages and performed and spoken in more than forty countries. He currently lives in Los Altos Hills, California and is working on a science fiction comedy novel.
Dada helps people who want to change find inner peace and clarity, through music, meditation and humor.
Videos
---
Speech Topics
---
Manage Stress and Boost Productivity through Mindfulness and Creativity