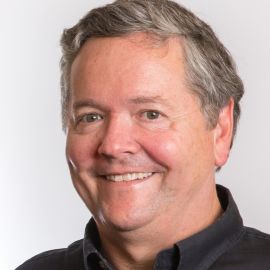 Dale Dougherty is the leading advocate of the Maker Movement. He founded Make: Magazine 2005, which first used the term "makers" to describe people who enjoyed "hands-on" work and play. He started Maker Faire in the San Francisco Bay Area in 2006, and which has spread to nearly 200 events in 40 countries, with over 1.5M attendees. Both Make: and Maker Faire were catalysts of the Maker Movement. He is CEO of Maker Media, Inc. in San Francisco, CA.
In 2011 Dougherty was honored at the White House as a "Champion of Change" through an initiative that honors Americans who are "doing extraordinary things in their communities to out-innovate, out-educate and out-build the rest of the world." At the 2014 White House Maker Faire he was introduced by President Obama as an American innovator making significant contributions to the fields of education and business. He believes that the Maker Movement has the potential to transform the educational experience of students and introduce them to the practice of innovation through play and tinkering.
Dougherty is the author of Free to Make: How the Maker Movement Is Changing our Jobs, Schools and Minds with Adriane Conrad. He is co-author of Maker City: A Practical Guide for Reinventing American Cities with Peter Hirshberg and Marcia Kadanoff.
Prior to Make:, Dougherty was a co-founder of O'Reilly Media where he was an editor of many early technical books. While at O'Reilly, he developed GNN, the first commercial website, which launched in 1993 and was sold to AOL in 1995. He coined the term "Web 2.0" and lives in Sebastopol, California.
Related Speakers View all
---
David Kirkpatrick

Best-Selling Author of The Facebook Effect, Technolo...

John Hagel

Independent management consultant and author

David Agus

Professor of Medicine and Engineering at the Univers...

Jack Hidary

Entrepreneur and Clean Energy Proponent.

Craig Newmark

Founder of Craigslist; Internet Entrepreneur; Leader...

Matthew Bishop

Managing director, Rockefeller Foundation and Former...

Ev Williams

Co-founder & Former CEO of Twitter; Founder & CEO of...

Andrew Ross Sorkin

Financial Columnist for The New York Times & Co-Anch...

Tiffany Shlain

Emmy-Nominated Filmmaker & Founder of the Webby Awards

Reid Hoffman

Co-Founder & Former Executive Chairman of LinkedIn; ...

Biz Stone

Co-Founder of Twitter

John Doerr

Venture Capitalist at Kleiner Perkins Caufield & Byers

Tim O'Reilly

Founder & CEO of O'Reilly Media

Seth Berkley

CEO of Gavi, the Vaccine Alliance; Medical Doctor Sp...

Bill Gates

Co-Founder of Microsoft; Co-Chair of the Bill & Meli...

Nicholas Burns

Professor of the Practice of Diplomacy & Internation...

Chris Hughes

Co-founder, Facebook and Editor-in-Chief and Publish...

Moby

Musician, DJ, Photographer

Jeff Jarvis

Leader in the Development of Online News & Blogging;...

Michael Schwartz

James Beard Award-Winning Chef & Owner of The Genuin...
More like Dale