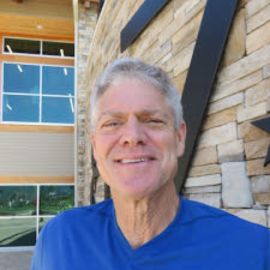 Dale Murphy
Former MLB Player, 2XMVP, 7X All-Star
Dale Murphy was drafted in the first round of the 1974 draft by the Atlanta Braves. He played almost his entire career for the Braves (1974-1991) before finishing up with the Philadelphia Phillies (1991-1993) and Colorado Rockies (1993). Dale (or "Murph" as he is known by teammates and fans) is the youngest player in MLB history to win back-to-back MVP awards (1982 and 1983). He also won 2 consecutive NL Player of the Year Awards (The Sporting News, 1982, 1983) and was named to the National League All-Star Team 7 times, 5 as a starter. He won the Gillette Trophy for the highest number of All-Star votes submitted by fans in the National League in 1985.
Murph won 5 consecutive Gold Glove Awards and 4 Silver Slugger Awards. He was named National League Player of the Month a record 6 times and was named the most feared hitter in the NL in a survey of pitchers in 1985. In 1991, he won the Bart Giamatti Caring Award and was presented in 1985 with the Lou Gehrig Memorial Award, recognizing him as the player who best fit the image and character of Lou Gehrig. He also received the Roberto Clemente Award in honor of his character and charitable contributions on and off the field.
His streak of 740 consecutive games (1981-1986) is one of the longest in baseball history. In 1983, he became only the sixth player in Major League history to have at least 30 home runs (36) and 30 stolen bases (30) in one season. This elite group is sometimes referred to as the "30-30 Club."
During the decade spanning 1981-1990, Murph led the major leagues in home runs and RBI's. He also led the National League in games, at bats, runs scored, hits, extra base hits, runs created, total bases and plate appearances.
He was on the cover of Sports Illustrated 3 times. In 1987 he was named one of Sports Illustrated's 5 Sportsmen and Sportswomen of the Year, representing Major League Baseball as the athlete "Who Cared the Most." He was honored with this award by President Ronald Reagan in the Oval Office of the White House.
Known as one of the true gentlemen of the game, Dale leads by example. He has given his time and his name to numerous charities through the years. After his retirement, he was inducted into the World Sports Humanitarian Hall of Fame.
Dale is highly sought after business, keynote and motivational speaker. He is the author of Ask Dale Murphy, The Scouting Report: Professional Athletics, and The Scouting Report: Youth Athletics. He is warm and personable and one of the comments heard most often after he presents is: ""Great speech--and he's just the nicest guy!""
Dale was one of the most beloved athletes to ever play in Atlanta. He retired from baseball in 1993 after a long and very successful career. His number (#3) was the fourth in the history of the Atlanta Braves' organization to be retired. It hung for a time in Atlanta Fulton-County Stadium and Turner Field, and now takes its place in SunTrust Park.
Dale is still known today as one of the true gentlemen of the game. He is a highly sought after business, collegiate, and motivational speaker and travels the country sharing his messages about teamwork, leadership, resilience, integrity, and much more.
But that's not all. What he did on the field is actually not the most important part of Murph's life—as amazing as those things are. Dale and his wife of 40 years—Nancy—are the parents of 8 children (7 sons and 1 daughter) and grandparents to 12. His family, friends, and faith—as well as his other accomplishments off the field—are the things in life he treasures most.
Speech Topics
---
Transforming a Group to a Team
Lessons on Leadership from the Major Leagues
Resilience Through Adversity
Pathways and Pitfalls to Peak Performance
Related Speakers View all
---
John Smoltz

Former Atlanta Braves Pitcher; National Baseball Hal...

Ozzie Smith

15-Time MLB All-Star & National Baseball Hall of Fam...

Greg Maddox

Baseball Player

Andre Dawson

Former Outfielder for the Montreal Expos & Chigaco C...

Phil Niekro

Philip Henry Niekro was born April 1, 1939 and nickn...

Dave Parker

David Gene Parker was born June 9, 1951 in Calhoun, ...

Eddie Murray

Eddie Clarence Murray is a former Major League Baseb...

Jim Rice

James Edward "Jim" Rice was born March 8, 1953 in An...

Mike Schmidt

Professional Baseball Player, Third Baseman

Tom Glavine

Former MLB Pitcher for the Atlanta Braves

Hank Aaron

One of the Greatest Baseball Players of All Time; Se...

Fred McGriff

As Fred McGriff made an attempt to hit 500 career ho...

Dave Winfield

National Baseball Hall of Famer & 12-Time MLB All-St...

Steve Sax

Five-Time MLB All-Star & Mental Health Advocate

Orel Hershiser

Former 3-Time All-Star MLB Player & Coach; Professi...

Steve Garvey

Cancer Survivor; Former Professional Baseball Player...

Madieu Williams

Born in Sierra Leone, West Africa, Madieu Williams m...

Brad Stevens

Head Coach of the Boston Celtics

Patrick Hickey

First Nurse to Climb Seven Summits of the World

Robert Brooks

One of today's leading speakers and authors on the t...
More like Dale