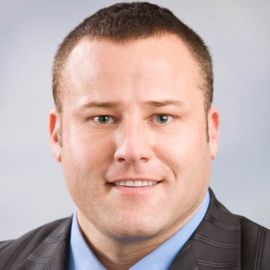 Daman Mott, MSN, RN
Nursing Director with NorthBay Healthcare
The health care career of Daman Mott, a nursing director with NorthBay Healthcare, spans 20 years. The Vacaville resident has experience in human resources, emergency medical services, disaster preparedness and trauma nursing in a variety of hospital and military field settings. He earned a degree from Indiana State University's School of Nursing and graduated Cum Laude in Public Administration from Upper Iowa University and a Master's Degree in Nursing from the University of Phoenix. He directs Emergency and Trauma Services at both NorthBay Medical Center and VacaValley Hospital. Where he most recently successfully created the first and only designated Trauma Center in Solano County. A decorated officer of the Armed Forces; his 15-year military career spanned three wars on four continents. He serves on numerous Boards of Directors and committees.
He is a volunteer for NorthBay Healthcare Foundation and Guild. He is an active member of the Veterans of Foreign Wars. He and his wife of 20 years, Deanna, who is the Associate Director of Solano Land Trust, chose Vacaville as their hometown when he was honorably discharged in September 2007. When not working, he stays busy chasing after 2 teen daughters, Damanique (17) and Delaney (15). Daman enjoys softball, volleyball, fishing, history, and spending time traveling with his family.
Videos
---
Speech Topics
---
On A Personal Note
I am originally a "Hoosier" from Indiana. I have loved first aid since I was an Eagle Scout. I started my career as a combat medic in the Army. I have worked my way through the ranks and am committed to life-long learning. I am active in the community and am well-schooled regarding budgets. I love a challenge and the quickest way to set me on a path is to tell me "no" or that, "it can't be done". While I am comfortable and capable of working autonomously, I love to build relationships and work as part of a team. I am a servant-leader. I feel as responsible members of the health-care community, the best we can do is utilize our collective minds and experience to make a sound decisions based on the facts which offer the greatest good to the greatest number of people we serve.
Related Speakers View all
---
Jonathan Sandys

Speaking on the life & leadership of my great-grandf...

Bill Wooditch

Founder, CEO, and president of The Wooditch Group

Paula McDade

Women's Empowerment & Leadership Speaker, Bestsellin...

Andrea Paquette

Mental Health Advocate, Founder & President of the S...

Monica Phromsavanh

CEO & Co-Founder of ModaBox

Brandon Farbstein

Dwarfism Activist, Author & Motivational Speaker.

Charlie Alejandro

Motivational Speaker, Writer, Actress & Radio Talk S...

Jessica Cox

World's First Armless Pilot & First Armless Black-Be...

Vince Papale

Former NFL Player & Inspiration for the Movie "Invin...

Larry Komer, MD

Peak Performance Institute, Healthcare Innovation Ex...

Billie Jordan

How do you inspire a large team of people aged 65 - ...

Jennifer Thomas

Best-Selling Author, Motivational Speaker on Apology...

Carey Lohrenz

First Female F-14 Fighter Pilot in the U.S. Navy, T...

Grant D. Fairley

Inspirational Speaker and Teacher, Executive Coach &...

Erin Gruwell

Founder & Executive Director of the Freedom Writers ...

Dave Dravecky

Former Professional Baseball Player; Cancer Survivor...

Roger Crawford

Hall of Fame Athlete; First & Only US Professional T...

Silouan Green

Former US Marine, PTSD Activist, Founder of Everon LLC

Gbadebo Odularu

PhD Economist keen on deploying data science to solv...

Brian Fleming

Combat-Wounded Veteran, Resilience & Leadership Speaker
More like Daman