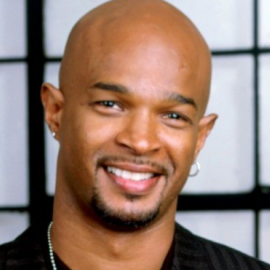 Iconoclastic Damon Wayans is known for his no-holds-barred comedic genius, celebrating his success in the industry as an actor, director, producer and standup comic. Just recently announced are plans for Wayans to return to ABC, co-creating and top lining a new family sitcom for the network, which he will also write, executive produce and direct. The edgy sitcom will star Damon as a recent widower who has to take in the 19-year-old stepson he never knew. Damon also recently returned to his stand-up comedy roots, shooting a one-hour comedy special which is scheduled to premiere on Comedy Central this February 24th.
Currently in syndication, Damon starred in five seasons of the hit ABC series "My Wife and Kids," the series which he co-created, executive produced and often directed. "My Wife and Kids" received numerous awards, including the 2002 People's Choice for Favorite New Television Comedy Series, and Favorite Male Performer in a New Television Series for Wayans's portrayal as patriarch Michael Kyle. In 2006, Damon also served as the creator, director, executive producer and star of "The Underground", a half-hour sketch comedy series for Showtime.
Wayans is most fondly remembered for his three seasons as writer and co-star on the Emmy Award-winning series "In Living Color". There, he made characters like "Homey the Clown," "Handiman" and "Men on Film" household names. His writing for the series earned him two personal Emmy nominations. Additional television credits include the Fox sitcom Damon, the drama 413 Hope Street, and Waynehead, a Saturday morning animated cartoon for the WB.
On the big screen, Wayans recently directed brother Marlon Wayans as well as himself in the independent drama Behind the Smile. Other feature film credits include starring roles in Spike Lee's critically acclaimed film Bamboozled, Harlem Aria, Blankman, The Last Boy Scout, Earth Girls are Easy, I'm Gonna Git You Sucka, and Hollywood Shuffle.
Wayans is also a talented author. In 1999, he penned "Bootleg," a humorous compilation of his observations on family, children, marriage and politics. The book was a tremendous success and quickly hit the New York Times Bestseller List.
News
---
Damon Wayans On How Brain Surgery Cured His Diabetes
Audiences have long known Damon Wayans, Sr., as a member of Hollywood's "first family of comedy," the Wayans family. Lesser known is that the 56-year old actor and comedian is among celebrities who've come forward about their personal struggle with Type 2 diabetes.
Related Speakers View all
---
Sidney Poitier

Academy Award-winning Actor, Writer, Director, and D...

Shawn Wayans

Comedic Actor Best Known for Spoofs like "Scary Movi...

Issa Rae

Actress, Writer, Director & Producer; Star and Creat...

Keenen Ivory Wayans

Comedian, Director & Writer; Known for "White Chicks...

Robert Townsend

Award-Winning Filmmaker & Former CEO of the Black Fa...

Bill Bellamy

Comedian and Actor best known for Russell Simmons' D...

Jordan Peele

Filmmaker, Producer, Actor & Academy Award-Winning S...

Richard Lewis

Comedian and Actor; Known for his HBO Specials and "...

Spike Lee

Academy Award-Winning Writer, Producer, Actor & Dire...

Marlon Wayans

Actor, Director & Comedian; Known for "Scary Movie" ...

David Alan Grier

Actor and Comedian Known for his Work on the Sketch ...

Brad Garrett

American Actor and Stand-Up Comedian

Jim Belushi

Actor & Musician

Jason Alexander

Star of Seinfeld

D.L. Hughley

Award-Winning Stand-Up Comedian, Political Commenta...

Denzel Washington

Actor, Director & Producer Known for "Fences" and "T...

Kenan Thompson

Prime Time Emmy Award-Nominated Actor; Former "Satur...

Tyler Perry

Actor, Producer, CEO of Tyler Perry Studios

Kevin Nealon

Former Cast Member of 'Saturday Night Live'; Co-Star...

Jay Leno

Acclaimed TV Late Night Show Host, Admired Stand-Up ...
More like Damon