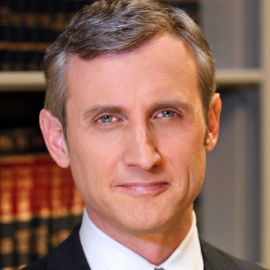 Dan Abrams is the CEO and Founder of Abrams Media, Chief Legal Affairs Correspondent for ABC News, the host of top-rated cable series "Live PD " on A&E Network, and hosts the SiriusXM radio show "The Dan Abrams Show: Where Politics Meets The Law." He was previously the co-anchor of ABC's "Nightline," host of "The Abrams Report" and the acclaimed "Verdict with Dan Abrams" on MSNBC. Dan also served as General Manager of MSNBC, where he presided over a period of unprecedented growth, with ratings and profits each increasing well over 50% during his tenure. During that time Dan was also a member of the NBC Universal President's Council.
The Abrams Media properties now welcome over 30 million pageviews per month and include the nationally recognized Mediaite.com, which covers the intersection of media and politics; Law&Crime.com and the now widely watched Law&Crime Network, which live streams trials with anchors and in-studio analysis; TheMarySue.com, covering "geek culture" from a female perspective (among others); and Ambo TV Network, a live Christian sermon streaming network with next-generation pastors.
A graduate of Columbia University Law School, Abram is also a recognized writer. He has published numerous articles in the New York Times and Wall Street Journal, in addition to The Yale Law and Policy Review, ABCNews.com, and Mediaite.com, among many others.
Dan has published several books. "Man Down: Proof Beyond A Reasonable Doubt That Women Are Better Cops, Drivers, Gamblers, Spies, World Leaders, Beer Tasters, Hedge Fund Managers, and Just About Everything Else," was a Washington Post bestseller. "Lincoln's Last Trial: The Murder Case That Propelled Him to The Presidency," published in 2018, and "Theodore Roosevelt for the Defense: The Courtroom Battle to Save His Legacy," published in 2019, were both New York Times bestsellers. His third book, "John Adams Under Fire: The Founding Father's Fight for Justice in the Boston Massacre Murder Trial" was an instant New York Time bestseller after release in March 2020 on the 250th anniversary of the Boston Massacre.
Speech Topics
---
Social Media Strategy in Today's Business World
The media landscape has experienced a revolution which has profound implications for how businesses reach their customers. While the traditional objectives of businesses remain the same to build brand identity, develop customer loyalty, and communicate with investors social media has introduced powerful new, and cost-effective tools to achieve these age-old goals. Dan's firm Abrams Research has become a social media leader, advising top corporations on how to adapt to this shifting landscape in order to not just survive, but thrive, in these challenging times. Abrams Research's Social Media Guide for Businesses has become a must read for many of America's largest businesses trying to make social media work for them.
On the Law and In the News
From todays biggest trials and headlines to President Obama and his relationship with the courts, Dan Abrams covers it all. Abrams provides insightful analysis on current events, the law and the highest profile cases getting the attention of media.
Issues Facing the Nation Today
Man Down: Proof Beyond a Reasonable Doubt that Women Are Better at Just About Everything,
Covering the Courts: The Convergence of Law & Media in Today's Highest Profile Cases
Join keynote speaker and Good Morning America legal analyst Dan Abrams as he gives an insider's view of today's hottest cases and the media's effect on them. Jodi Arias, Casey Anthony, Amanda Knox—these are names that we know only because the media decided their trials were newsworthy. How did the attention these cases received affect their outcomes and the general perception of justice in the courts? How has media coverage of legal cases evolved over time? As a lawyer and media insider, Dan Abrams brings a unique and dynamic perspective to this topic. Don't miss his fascinating discussion of the media's impact on how we view the legal system and today's headline cases.
Related Speakers View all
---
Katty Kay

Anchor on BBC World News America; Co-Author of "Wome...

Ben Stein

Political Economist, Commentator, Author & Actor

Joan Lunden

Award-Winning Journalist, Bestselling Author & Healt...

Donna Brazile

Veteran Political Strategist, Bestselling Author, Fo...

Laura Ingraham

Political Commentator, Television Host & Journalist

Carl Bernstein

Pulitzer Prize-Winning Journalist, Author & Politica...

Montel Williams

Emmy Award-Winning Talk Show Host Best Known For "Th...

Richard Dreyfuss

Academy Award-Winning Actor

Bob Woodward

Legendary Pulitzer Prize-winning Journalist/Author a...

Amy Goodman

Host & Executive Producer, Democracy Now!

Erin Gruwell

Founder & Executive Director of the Freedom Writers ...

Henry Winkler

Actor, Producer, Director & Best-Selling Author; Bes...

Van Jones

CNN Political Contributor; Author; Human Rights, Edu...

Anderson Cooper

Journalist, TV Personality, Anchor of CNN's "Anderso...

Geoff Colvin

Editor & Columnist at Fortune Magazine; Author of "H...

Calvin Trillin

Author, Columnist, Humorist & Political Satirist

Hill Harper

Actor, Author & Philanthropist; Best Known For "CSI:...

Joy-Ann Reid

MSNBC Correspondent, Political Author & Former Host ...

Joseph Stiglitz

American Economist, Professor at Columbia Universit...

Mickey Edwards

Vice President & Program Director, Rodel Fellowships...
More like Dan